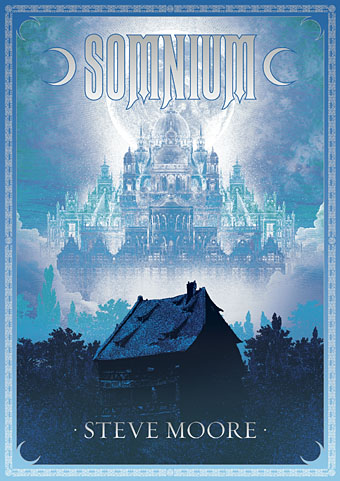 RIP Steve Moore. We never met, unfortunately, but I was very pleased he asked me to create a cover for his unique occult novel, Somnium, in 2011. Prior to this we'd been connected by shared acquaintances, colleagues, and membership in the informal cabal that was (and maybe still is) The Moon & Serpent Grand Egyptian Theatre of Marvels. Steve's long friendship with Alan Moore (no relation) is well-documented, not least by Alan himself who made Steve the subject of his Unearthing project. One surprising connection for me was that Steve also had a link to Savoy Books. In the late 1960s he was working for comics publisher Odhams where he was able to copy for David Britton some Ken Reid comic art which Odhams had refused to print. Dave published the forbidden pages in his first magazine, Weird Fantasy, in 1969. In 2011 Steve talked to Pádraig Ó Méalóid about Somnium, and also to Aug Stone at The Quietus. Aug Stone penned a few memorial words here.
• "People love using the word 'porn' as long as there's a partner for it. Pair 'porn' with something else and it's usually a good thing. A celebration of style and culture. But that word on its own? Well." Porn star Conner Habib asks why people have such a problem with porn actors.
• Dave Maier's Russian cinema recommendations. Several favourites there including the magical and remarkable Shadows of Our Forgotten Ancestors (1964) which, as Maier notes, isn't really Russian but should be seen in any case.
Shakespeare uses verbal magic, cantrips and ditties, nonsense songs and verses throughout the plays, but in Othello he gives a glimpse of how powerful a spell becomes when it's no longer oral, but fixed in material form. The fatal handkerchief is no ordinary hanky; it's a love spell, and it was made with gruesome and potent ingredients (mummified "maiden's hearts") by a two-hundred-year-old sibyl in Egypt—Egypt being the birthplace and pinnacle of magic knowledge.

Marina Warner on magic.
• Mixes of the week: an hour of electro-acoustics and contemporary classical recordings sequenced by Laurel Halo, and (from 2010) 36-minutes of "umbral electronic hypnagogia" by The Wyrding Module.
• "This is the book that, 10 years later, inspired Richard Hollis's landmark design for John Berger's Ways of Seeing." Rick Poynor on Chris Marker's Commentaires.
• Is the Linweave Tarot the grooviest deck ever made? Dangerous Minds thinks so.
• Bobby Barry talks to Holger Czukay about his 1969 audio collage, Canaxis 5.
• "What Happened to Experimental Writing?" asks Susan Steinberg.
• Aldous Huxley's lectures on visionary experience at MIT, 1962.
• Laura Palmer will see Agent Cooper again in just a few hours.
• Callum found a copy of The Gay Coloring Book (1964).
• Moonshake (1973) by Can | Lunar Musick Suite (1976) by Steve Hillage | Dark Moon (1993) by Holger Czukay | Boy In The Moon (2012) by Julia Holter