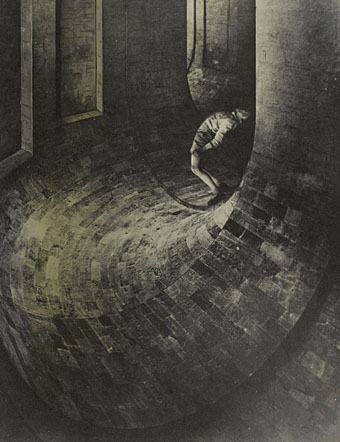 The Simulator (1936) by Dora Maar.
• Surprise of the week for me was the discovery of a new album, Kshatrya – The Eye Of The Bird, by cult French composer Igor Wakhévitch. This had been out for a while but I'd managed to miss the announcements. The music was recorded in 1999 so isn't exactly new but it's the first new Wakhévitch release (as opposed to a reissue or compilation) since Let's Start in 1979. Very good it is too, almost completely electronic but not as discordant as his synth-dominated Hathor album.
• "Popol Vuh is a Mass for the heart." Gerhard Augustin talks to Florian Fricke about Popol Vuh's music in a "rare" (lost? previously unseen?) interview. Undated but the City Raga album is referred to as a recent release so it's probably around 1995.
• Brian Dillon on the voraciousness and oddity of Dora Maar's pictures. Related: Rick Poynor on The Simulator by Dora Maar.
• The Secret Ceremonies: Critical Essays on Arthur Machen, edited by Mark Valentine and Timothy J. Jarvis.
• Juliette Goodrich on the tale of the Buchla synthesizer, the repair engineer, and a dormant drop of LSD.
• Scott Tobias on Midnight Cowboy at 50: why the X-rated best picture winner endures.
• A Hidden History of Women and Psychedelics by Mariavittoria Mangini.
• Previews of Chords, the new album by composer Ellen Arkbro.
• Mix of the week: Secret Thirteen Mix 290 by Mark Stewart.
• "Somehow I became respectable," says John Waters.
• At Dennis Cooper's: Walerian Borowczyk Day.
• The Bandcamp Guide to Earth.
• Gén #1 by Ray Kunimoto.
• Secret Ceremony (Theme From Brond) (1987) by Scala (Bill Nelson & Daryl Runswick) | Healing Ceremony (1990) by African Head Charge | Ceremony Behind Screens (1995) by David Toop