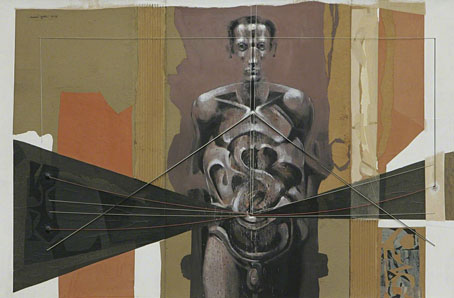 Contained Maze (1966) by Michael Ayrton.
• At Public Domain Review: Skeletons (1692) by Ikkyu, a Japanese monk, whose book is "a mixture of poetry and prose that comes down to us in printed editions supposedly replicating a manuscript, now lost, by the monk's own hand. The text describes a series of visions of animated skeletons that Ikkyu had when he visited an abandoned temple. The lively illustrations testify to their maker's sardonic sense of humour: he images skeletons dancing, drumming, drinking sake, having sex."
• At The Daily Heller: Victor Moscoso's Psychedelic Valedictory Exhibit. The exhibition will be at the Instituto Cervantes in New York City which has an accompanying 224-page catalogue of Moscoso's posters and other designs.
• More Moscoso: Color (1971) and Moscoso Comix (1989), free to download at the Internet Archive. Moscoso's underground comics experimented with the form in a manner that still looks radical today.
Drone and ambient metal is often invoked in elemental terms. There is something antediluvian and beyond about it. Pierce the earth's crust, and there is liquid fire, ever so slowly shifting the tectonic plates we inhabit. Such music is envisaged as massive and totally beyond our control. It infuses the foundations of civilization. As Attila Csihar intones on Sunn O))) track 'Aghartha', named for a legendary subterranean kingdom: "Into the memories of the consciousness of ancient rocks/ Nature's answer to eternal question".

Stripped of the trappings of modern pop and rock, ambient metal invites a search for answers to the bigger questions. Ancient musical modes are resurfaced to get us closer to a putative godhead.

Dan Franklin on Earth 2, the deceptively-titled debut album by Earth. The album's 30th anniversary has prompted a collection of remixes, Earth 2.23, by various artists
• At Spoon & Tamago: Download over 30 butterfly designs by Meiji-era artist Yuho Tanaka.
• New music: HYbr:ID II by Alva Noto, and The View From Vega by Benge.
• The winners of the Landscape Photographer of the Year 2023.
• At Dennis Cooper's: Guy Maddin Day (restored/expanded).
• A happy 20th birthday to Swan River Press.
• Industrial Landscape (1980) by Marc Barreca | Desolate Landscape (2012) by John Zorn | Primordial Landscape (2013) by Patrick Cowley