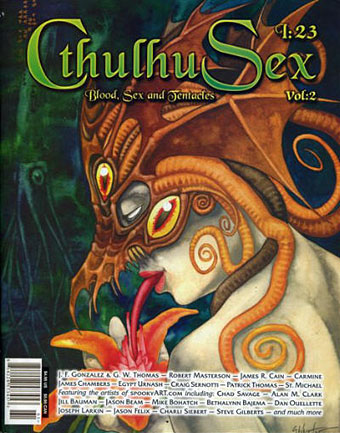 Cover for the now-defunct Cthulhu Sex magazine, volume 2, no. 23. Art by Chad Savage.
• Revising Lovecraft: The Mutant Mythos by Paul StJohn Mackintosh. Mackintosh was interviewed at Greydogtales in 2016 where he made a point that certainly chimes with my experience: "…the English-speaking genre community seems to have far more trouble with certain sexual themes than the mainstream literary community does, especially in Europe. […] A pity, because, for example, if H P Lovecraft's worldview did owe much to sexual repression, then more mature engagement with that could really benefit the whole cosmic horror genre."
• At Expanding Mind: Occultist and Aleister Crowley biographer Richard Kaczynski talks with Erik Davis about Jack Parsons, the "method of science," the Agape Lodge, the women of Thelema, and the pluses and minuses of the Strange Angel TV series.
• The Tell-Tale Heart (1953) is a short adaptation of the Poe story directed by JB Williams, and featuring Stanley Baker as the author. The film had been lost for 50 years but may now be seen on the BFI website.
• From July but more suited to the end of October: Paul Karasik on The Addams Family Secret: how a massive painting by Charles Addams wound up hidden away in a university library.
• Mixes of the week: Samhain Séance Seven: A Very Dark Place by The Ephemeral Man, Big Strings Attached, Oct. 2018 by Abigail Ward, and XLR8R Podcast 564 by Niagara.
• At Haute Macabre: Conjured from obscurity: lost, neglected and forgotten literature from Valancourt Books.
• The Feathered Bough, a large-format collection of new fiction and art by Stephen J. Clark.
• William Doyle on Music For Algorithms: in search of Eno's ambient vision in a spotify era.
• The devils of our better nature: Daniel Felsenthal on Dennis Cooper and his new film.
• Bone Mother, a short animated film by Dale Hayward & Sylvie Trouvé.
• "In Japan, the Kit Kat Isn't Just a Chocolate. It's an Obsession."
• Leigh Singer chooses 10 great films about the afterlife.
• "I am a haunted house," says Sarah Chavez.
• Sex Voodoo Venus (1985) by Helios Creed | Sexy Boy (1998) by Air | Sex Magick (2002) by John Zorn