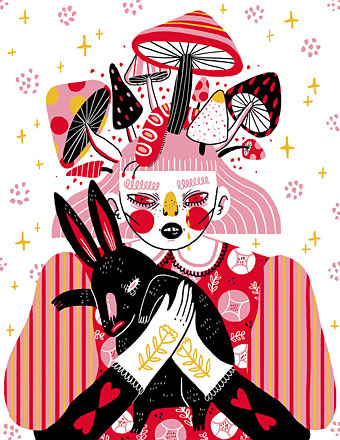 Wasted Alice (2017) by Sonia Lazo.
• Brian Eno: "We've been in decline for 40 years—Trump is a chance to rethink." An equivocal headline, and the usual misinterpretation from the hard-of-thinking, prompted Eno to issue a clarification. More Trumpery: Jonathan Meades wonders what kind of wall "The Lout" might want to build. Related: almost all of Meades' smart and witty television essays may be viewed at MeadesShrine (click through to Vimeo for download links).
• "Once you've turned entire buildings into instruments as on Medium, and then you've made the ionosphere itself an instrument as on Signal, where do you go next?" Emptyset discuss their forthcoming album, Borders, and a change in their working methods.
• Christopher Burke & David Davis at Weird Fiction Review talk to Valancourt Books about reprinting neglected works of horror and gay fiction.
• At the BFI this week: All about Jim Jarmusch's leading men, from Tom Waits to Bill Murray, and John Hurt (RIP): 10 essential films.
• "Claude Arnaud's biography of Jean Cocteau shows how the artist lived a life nourished by infinity," says Ricky D'Ambrose
• Sukhdev Sandhu on John Berger: "a pathfinder who was alive to the present".
• Theodore Carter on Doll Part Art: Visual Feasts Made of Plastic Bodies.
• Count Backwards from Ten: Peter Bebergal's Top 10 Occult in Media.
• Books from Strange Attractor will now be distributed by MIT Press.
• Eero Saarinen, the architect who saw the future.
• Mix of the week: FACT Mix 585 by Niagara.
• RIP Maggie Roche.
• Hammond Song (1979) by The Roches | Losing True (1982) by The Roches | Keep On Doing What You Do / Jerks On The Loose (live, 1990) by The Roches