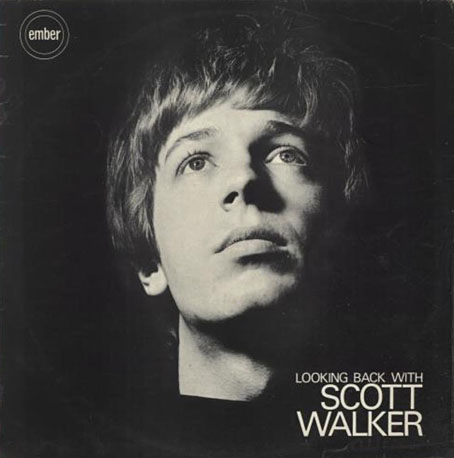 Photo by Dezo Hoffmann, 1968.
If there's one thing everyone can agree on about the late Scott Walker it's that his career was not only improbable but almost impossible in its range and trajectory. My mother saw the Walker Brothers perform in Blackpool 52 years ago, headlining a touring bill that featured Cat Stevens (the artist she most wanted to see) and the soon to be very famous Jimi Hendrix. She enjoyed good pop songs and big orchestras, so even though she's never expressed a preference for the Walker Brothers or Walker solo I'm sure she could listen to an album or two. But she wouldn't be able to stand more than a minute of Walker's output from Tilt (1995) onwards, and even the four watershed tracks on Nite Flights (1978) would be deemed unacceptable. Walker's progress inverted the stereotype of the 20th-century pop career, the all-too-common descent into blandness and irrelevance, by following a course closer to that taken by painters and literary artists. He walked the walk.
• When Scott Walker's Climate Of Hunter was announced in 1984, Richard Cook persuaded its introverted creator to talk to the press for the first time in many years. Cook and Walker met again in 1995 when Tilt was released. From 2008: Sean O'Hagan talking to Scott Walker two years after the release of The Drift; at The Wire again: a recording of Rob Young discussing Walker's career; at the BFI: Scott Walker's selection of some favourite films; at The New Yorker: Amanda Petrusich on the weird and vast and periodically devastating music of Scott Walker.
• At The Paris Review: Jane Alison suggests meanders, spirals, radials, fractals and cells as alternative to the narrative arc, while Peter Bebergal argues for seeing belief and disbelief in a superposition when it comes to art and the occult.
• Sarasota Half in Dream, a feature-length documentary by Derek Murphy and Mitchell Zemil about a decaying Florida suburb.
• Chris Marker, Always Moving: Max Nelson on a Paris exhibition, Chris Marker, les 7 vies d'un cinéaste.
• There's a little more Scott Walker, inevitably, in this interview with Stephen O'Malley of Sunn O))).
• Michael Moorcock talking to The Austin Chronicle about his long association with Hawkwind.
• M. John Harrison chooses favourite stories for Jonathan Gibb's Personal Anthology series.
• Rat Cunning and Bloodshed: An interview with Simon Sellars by Lee Rourke.
• In Search of the Seas of Pleiades, a free download by Jenzeits.
• Rammstein are back with a video epic: Deutschland.
• Sex Magick is Satanic doo-wop by Twin Temple.
• Time, Forward! by Georgi Sviridov.
• Orpheus (1967) by The Walker Brothers | Lullaby (By-By-By) (2000) by Ute Lemper | Darkness (2006) by Scott Walker