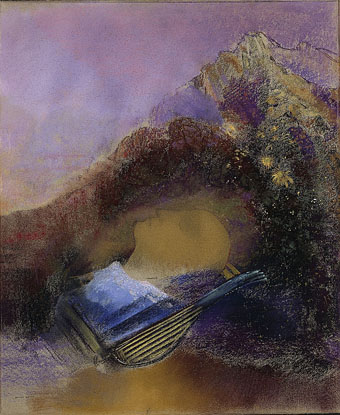 Orpheus (c. 1903–1910) by Odilon Redon. One of 30,000 public-domain images from the Cleveland Museum of Art's collection.
• Network DVD has announced the premiere home release of Orson Welles' Great Mysteries, a British TV series that ran from 1973 to 74. Welles' involvement was limited to introducing each episode but the series itself was one I enjoyed a great deal: 26 short adaptations of period mystery stories that featured a wealth of British and American acting talent. The theme by John Barry was an additional bonus.
• The trailer for Apollo 11, a documentary by Todd Douglas Miller which presents for the first time the 70mm footage recording the Earth-bound parts of the Moon mission. Related: Michelle Santiago Cortés on how NASA used art to shape our vision of the future.
• At Dangerous Minds: a preview of Third Noise Principle, the latest in an excellent series of electronic music compilations from Cherry Red, and Cosey Fanni Tutti talks about her first solo album since 1983.
"The way I understood theory, primarily through popular culture, is generally detested in universities," Mark [Fisher] told me in 2005, when I interviewed him for the Village Voice. "Most dealings with the academy have been literally clinically depressing." He darkly surmised that his blog, K-Punk, and the surrounding blogosphere, "seemed like the space—the only space—in which to maintain a kind of discourse that had started in the music press and the art schools, but which had all but died out, with appalling cultural and political consequences." Mark and the Village Voice are both dead now, leaving unfathomable voids in their wake.

Geeta Dayal on Mark Fisher
• At The Witch Wave: Peter Bebergal and Pam Grossman discuss Bebergal's latest book (also my current reading), Strange Frequencies: The Extraordinary Story of the Technological Quest for the Supernatural.
• At Bandcamp: another release from the retro-synth cosmos of Jenzeits, and Ufology , an investigation of Britain's flying-saucer landscape by Grey Frequency.
• Surprising collaboration of the week: Beth Gibbons and Krzysztof Penderecki have made a new recording of Henryk Górecki's Third Symphony.
• Alchemy (1969) the debut album by the Third Ear Band, receives an expanded reissue next month.
• The Burn: a science-fiction story by Peter Tieryas with illustrations by Arik Roper.
• Mix of the week: Self-Titled Needle Exchange 275 by Black To Comm.
• Amy Turk plays Bach's Toccata and Fugue in D Minor on her harp.
• Chrismarker.org is seeking donations.
• Mystery Train (1955) by Elvis Presley | Mystery R.P.S. (No 8) (1981) by Holger Czukay, Jah Wobble, Jaki Liebezeit | Mystery Room (1985) by Helios Creed