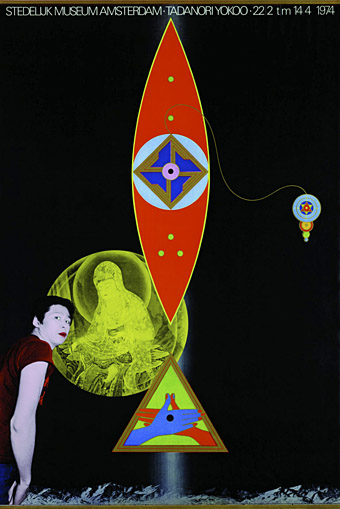 Tadanori Yokoo (1974) by Tadanori Yokoo and Will van Sambeek. A poster from the Colourful Japan exhibition at the Stedelijk Museum, Amsterdam.
• The first decade of space-rock pioneers Hawkwind is explored by Joe Banks in Hawkwind: Days of the Underground — Radical Escapism in the Age Of Paranoia, coming soon from Strange Attractor Press. I created the wraparound cover for this one, and will be talking about it here in a later post. Those interested in the book should note that the special edition hardback will include an extra book, plus a print and postcards. Limited to 500 copies so don't wait around.
• "What we look for in our formative years can be very different from the demands we make later as analytical adults, and it was certainly more important to me that representations of gayness were complex or colourful than that they were positive, whatever that meant." Ryan Gilbey on 50 years of Midnight Cowboy.
• Mixes of the week: Through A Landscape Of Mirrors Vol. II – France I by David Colohan, and As Imperceptibly As Grief The Summer Lapsed Away by Haunted Air.
If we imagine the material world about us having a concealed component of the fictional and the fantastic, visions buried in its stones and mortar waiting for their revelation, then we may suppose that 18th-century Lambeth was a teeming hub of such imaginal biodiversity. Bedlam alone could account for this ethereal population boom, but then nearby was the Hercules Buildings residence of William Blake, which can have only added to the sublime infestation.

Alan Moore on the visionary art of William Blake
• At the Internet Archive: Ten issues of Ed Pinsent's The Sound Projector Music Magazine (1996–2002), with bonus Krautrock Kompendium.
• "Like many dictators Franco considered himself an artist." Jonathan Meades on how fascism disfigured the face of Spain.
• Occulting Disk is a new album from the master of unnerving doomscapes, Deathprod, which will be released in October.
• Making MAD: Chris Mautner on the beginning and end of MAD magazine.
• John Margolies' photographs of roadside America.
• Fair Sapphire by Meadowsilver.
• Jarboe's favourite music.
• Theme from Midnight Cowboy (1969) by John Barry | Astral Cowboy (1969) by Curt Boettcher | Dayvan Cowboy (2005) by Boards Of Canada