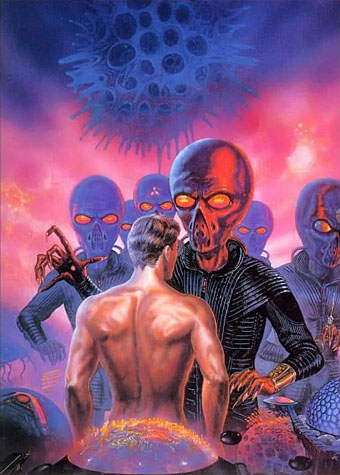 Cover for Amazing Stories, October 1992, by Douglas Chaffee. A delightfully strange painting that suggests a no doubt unintentional homoerotic scenario when divorced from its original context. Via.
• "The most curious aspect of Buckminster Fuller's arc is that he became a counterculture icon while entrenched in the very things that betrayed its spirit." Pradeep Niroula on Buckminster Fuller (again) whose self-importance is deflated in a new biography, Inventor of the Future: The Visionary Life of Buckminster Fuller by Alec Nevala-Lee.
• "I love both King Diamond and Weird Al. Lana del Rey and Anna von Hausswolff. Golden age illustrations of elegantly levitating fairies in a lush vibrant summer garden and the gothic charcoal rendering of melancholy moth singed by a candle's flame." S. Elizabeth talking to Luna Luna Magazine about inspirations and The Art of Darkness.
• "I'm writing this from my office which has a record player, currently about eight thousand records, and just one CD." Vinyl-head Jonny Trunk talking to Norman Records about the finding and releasing of rare music.
A painter's brilliant achievements, the unique traits of his particular style, rest on an abiding substratum of coordinated specialized crafts, a body of knowledge and practice safeguarded by a tradition upheld by the guilds. Beneath the glimmer and foreground of art history, like a powerful underground river, flow the patterns of training and production developed in the crafts. Art history is centred on individual talents romantically bringing forth their creations on their own, out of nothing. Craft is collective and anonymous. Someone had to weave the pieces of cloth that form the giant canvas of Las Meninas. Someone had to sew them together so that the stitching would show as little as possible. Someone had to cut and to assemble the struts for its support and then nail to them a canvas which in fact is not of the highest quality. It seems that Velázquez enjoyed the roughness of a surface that favoured his subtle veils and ambiguities. The loose manner of painting developed in Venice is linked to the quality of the pigments that could be purchased there, as well as to the oil medium and the thick, porous quality of a cloth that allowed subtle veils and ambiguities that are impossible to achieve on the surface of a wood panel.

Antonio Muñoz Molina on the materiality of painting, and its highest expression in the art of Diego Velázquez
• The films of Japanese director Kinuyo Tanaka are criminally overlooked, says James Balmont.
• Winners of the Nature TTL Photographer of the Year 2022.
• From 2012: The Disappeared by Salman Rushdie.
• At Dennis Cooper's: Standish Lawder Day.
• New music: Octopus by Sunfear.
• Come Sta, La Luna (1974) by Can | Fontana Di Luna (1978) by Michael Rother | La Luna En Tu Mirada (2003) by Ry Cooder & Manuel Galbán