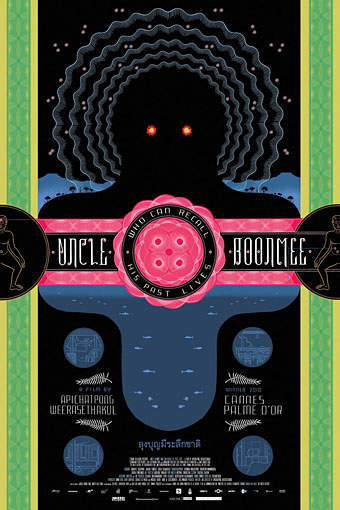 Poster by Chris Ware for Uncle Boonmee Who Can Recall His Past Lives (2010).
• "He is a proponent of "slow cinema," which is to say, movies that inspire reflection because they are unhurried but fluid, clear but framed by mystery." Hilton Als on the metaphysical world of Apichatpong Weerasethakul.
• "You could take off your clothes and lay in the sun, nude, with other guys looking for sex, right in Manhattan. And the police didn't care. It was safe…" Stanley Stellar on his photographs of New York's "Gay Piers".
• At Wormwoodiana: An interview with RB Russell who talks about his new book, Robert Aickman: An Attempted Biography.
• New music: Mysterium by Held By Trees; A Journey by Hinako Omori; Waves by The Soundcarriers.
• Get some cosmic perspective with an updated version of Charles & Ray Eames' Powers of Ten.
• You Cut Your Hair and Made a Friend: Richard Conway on Ladytron's 604 and Light & Magic.
• At Unquiet Things: The Tawdry Technicolor Horrors of Vicente B. Ballestar.
• Alexis Petridis compiles a list of the late James Mtume's greatest recordings.
• Steven Heller's Font of the Month is Valvolina.
• Slow Motion (1978) by Ultravox | Slow And Low (1995) by Tetsu Inoue | Slow Burning Ghosts (1996) by Paul Schütze