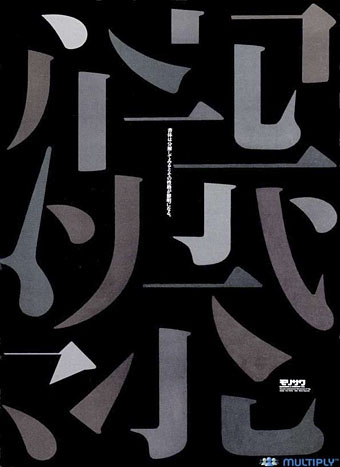 Imagination of Letters by Ikko Tanaka.
• Kankyo Ongaku: Japanese Ambient, Environmental & New Age Music 1980–1990 is the latest compilation from Light In The Attic, and another excellent package both musically, physically and design-wise. The album was compiled by Spencer Doran of Visible Cloaks who talked to The Quietus a couple of years ago about his favourite Japanese (and other) music. Simon Reynolds reviewed Kankyo Ongaku last month, and drew attention to Spencer Doran's Fairlights, Mallets and Bamboo mixes which may be heard here and here.
• Michael O'Shea playing his home-made musical instrument (an old door, paintbrushes, etc) on RTÉ in 1980. Shea's one-and-only album has been deleted for years but was reissued in January. The story of O'Shea's surprising involvement with Bruce Gilbert and Graham Lewis of Wire (which led to the recording of his album) is recounted here.
• Lou Thomas suggests five reasons to watch Shinya Tsukamoto's Tetsuo: The Iron Man on its 30th anniversary.
…Topor generates a world in which the great unsaid realities of human life are painfully laid bare, amplified through a series of confrontations with "le sang, la merde et le sexe" ("blood, shit, and sex"). While few of his texts have been made available in English, they are nevertheless representative of his wider body of work, in which the reader constantly trips over these same themes as if stumbling upon a naked corpse in a darkened room. They predicate an oeuvre of carnivalesque and necrophilic eroticism, and draw out the pungent, animalistic core hidden within the norms of our everyday existence. Topor's narratives are shot through with macabre irony, orgiastic scatology, and physical and psychological cruelty, which constitutes a fundamental reframing of the characteristics of human interaction with others.

Andrew Hodgson on Roland Topor's neglected writings
• An anciente mappe of Fairyland: newly discovered and set forth (1920) by Bernard Sleigh.
• Maggot Brain: an impromptu Funkadelic cover by Albatross Project.
• Anne Billson on purr evil: cinematic cats with hidden agendas.
• Sayonara: one of the most Japanese words in the dictionary.
• Painting the Beyond: Susan Tallman on Hilma af Klint.
• RB Russell on bookseller's labels: part one & part two.
• Christopher G. Moore on The Immortals and Time.
• Fuck the Vessel," says Kate Wagner.
• Japanese Farewell Song (Sayonara) (1957) by Martin Denny | Sayonara: The Japanese Farewell Song (1976) by Haruomi Hosono | Sayonara (1991) by Ryuichi Sakamoto