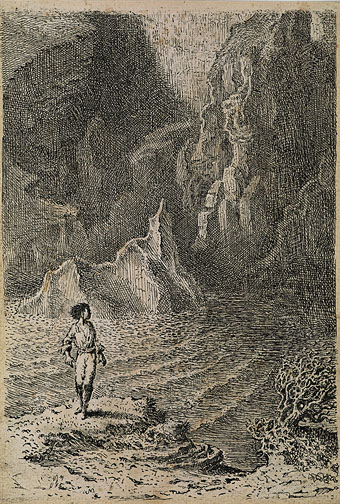 Jim Hawkins in Treasure Island. An illustration by Mervyn Peake, 1949.
• "Since it was 1967 when I became a teenager, I suspected that the Now would stir together rock 'n' roll bands and mod girls and cigarettes and bearded poets and sunglasses and Italian movie stars and pointy shoes and spies." Luc Sante on hs youthful search for The Now.
• "…in response to listener requests to play 'more music like This Heat', [John] Peel responded that he couldn't because 'nobody else sounds like them'." Alexis Petridis on the mighty This Heat, the band who tried to change everything.
• "While I hesitate to deploy the overused and near-devalued word shamanic here, it does smell right. Or rite." Ian Penman on the polychromatic delirium of Parliament and Funkadelic in 1970.
Anyway, we knew this new culture was there, we knew this phenomenon was occurring, centered in the Haight-Ashbury, so after this event, we dramaturges sat together and tried to think it out. What is this, in terms of breaking down the fourth wall? How is this a historical follow-through for Antonin Artaud on one hand and Bertrolt Brecht on the other? How did these two come together in this? What do you call this, when you provoke riots and use the audience as members of the cast? When you can stage events that brings the audience on the stage—but there is no formal stage? But it's a theatricalized event…? It's all new. So I called it 'guerrilla theater.' And Ronnie heard that phrase, and wrote an essay about doing Left provocative theater. That wasn't what I saw. I saw it as being deeper than that. And I began writing plays that now were for sure plays except that a lot of the dialogue was spontaneously derived from the performers—we had some really great performers at the Mime Troupe at the time, I'd say there were at least a dozen good performers, and a couple who were really brilliant. Anyways, put these people together, I gave them a context, and we began improvising dialogue.

Peter Berg of the San Francisco Diggers talking to Jay Babcock for the sixth installment of Jay's verbal history of the hippie anarchists
• "I love improvisation. I still do. For me it's the way I like to be acting, you see." RIP Michael Lonsdale, talking in 2015 about Jacques Rivette's Out 1.
• "Would you find this bookstore beautiful or terrifying? Or both," asks Jonny Diamond.
• Yukino Ohmura uses stationery store stickers to create dazzling nightscapes.
• At Spine: Penguin Books celebrates 85 years with original artworks.
• Strange Selectors by Various Artists on Werra Foxma Records.
• Daisy Dunn on the gentle genius of Mervyn Peake.
• This Heat: Rimp Ramp Romp (1977) | Repeat (1979) | Makeshift Swahili (1981)