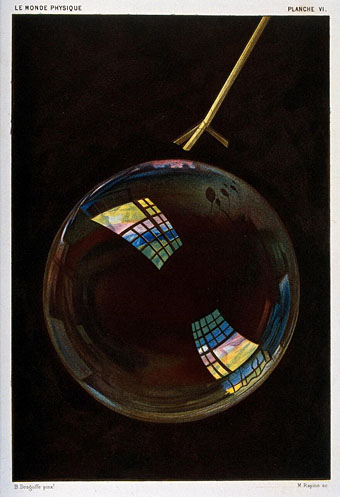 Soap Bubble (1882) by Alexandre-Blaise Desgoffe. Via.
• "…there is not now, has never been, and will never be a single Platonic form of the paragraph to which all others must conform." Richard Hughes Gibson on the history of the paragraph.
• At Spoon & Tamago: imaginary covers by international illustrators for The Tokyoiter, a New Yorker-style magazine about the Japanese capital.
• New music: tick tick tick by Stephen Mallinder, and A Vibrant Touch by Aleksandra Slyz.
The Kat had a cult following among the modernists. For Joyce, Fitzgerald, Stein, and Picasso, all of whose work fed on playful energies similar to those unleashed in the strip, he had a double appeal, in being commercially nonviable and carrying the reek of authenticity in seeming to belong to mass culture. By the thirties, strips like Blondie were appearing daily in roughly a thousand newspapers; Krazy appeared in only thirty-five. The Kat was one of those niche-but-not-really phenomena, a darling of critics and artists alike, even after it stopped appearing in newspapers.

Amber Medland on George Herriman, EE Cummings and Krazy Kat
• 35mm.online: Polish feature films, documentaries and animations, all free to view.
• At Dennis Cooper's: Spotlight on…Georges Bataille Erotism: Death and Sensuality.
• Inside the Espai Corberó, the home/gallery of the late Xavier Corberó.
• Strange Attractor Journal Five.
• RIP Claes Oldenburg.
• Krazy Kat (1928) by Frankie Trumbauer & His Orchestra | Krazy Kat (1949) by Artie Shaw | Krazy Kat (1975) by Teddy Lasry