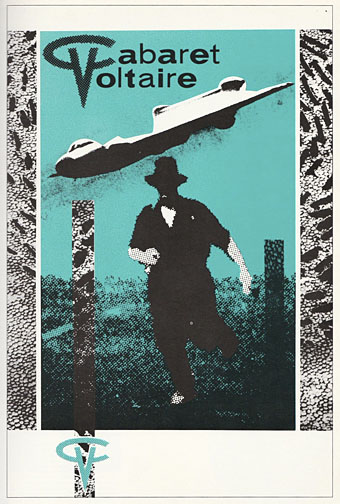 Design by Neville Brody, 1980.
• My work soundtrack for the past couple of weeks has been non-stop Cabaret Voltaire so this is pertinent. Neville Brody designed many of the group's record sleeves in the 1980s as well as this poster and another one that I've only seen as a small picture in the first Brody book. He was also responsible for the CV logo which I never managed to find in badge form.
• "Anger's preferred mode of artistry in his last decades was self-mythologising, and while he would return to filmmaking late in life, it was less as hierophant than totem—the worn keepsake of a once powerful magick." Ryan Meehan remembers Kenneth Anger.
• New music: Waves by Ben Chasny and Rick Tomlinson, Topos by UCC Harlo, and Zango by WITCH.
Kafka's perpetual redescription of his plight suggests that throughout his writing life he was less interested in finding a solution or even arriving at a single, definitive formulation of the problem than he was in exploring the implications and complications of his situation from new, unexpected angles and crafting an ever-expanding lexicon of figures for its inescapability.

Ross Benjamin, the translator of Franz Kafka's diaries, on the neurotic concerns that Kafka turned into art
• "Why are men seemingly always naked in ancient Greek art?" Sarah Murray investigates.
• Artists for Bibi: an auction in aid of Arthur Machen's great-great-granddaughter.
• At Public Domain Review: Unidentified Floating Object: Edo Images of Utsuro-bune.
• Steven Heller's font of the month is Acorn.
• Old music: Moon Journey by Mort Garson.
• RIP Tony McPhee.
• Kafka (1964) by The Rowdies | Kafka (1982) by Masami Tsuchiya | Kafka (Main Title) (1992) by Cliff Martinez