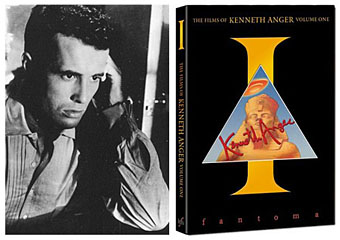 Finally…well, we'll see. Forgive my sceptical tone, these announcements have been cropping up for years although this one seems genuine, with an Amazon page and everything. Good to know that it's a Fantoma production since they did a great job with Jodorowsky's Fando y Lis.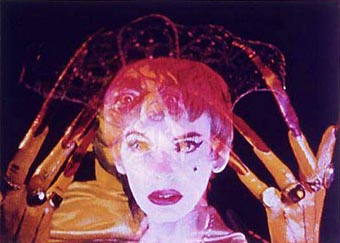 The enigmatic Marjorie Cameron portrays the
Scarlet Woman for Inauguration of the Pleasure Dome.
The word "classic" is often used too easily but these films are classics by any standard, masterworks of underground filmmaking, pioneering in their gay content (Fireworks [1947] is like Genet directed by Jean Cocteau and all the more remarkable since Anger was still a teenager when he made it), camp and occult in equal measure, and Inauguration of the Pleasure Dome, made in 1954, can claim to be one of the first examples of truly psychedelic cinema. DVD would be the perfect medium to present Inauguration with multiple soundtracks (it's had at least two over the years) although I suspect we'll only get the Janacek score and not the bizarre Electric Light Orchestra version I saw once at a cinema screening.
At long last, THE FILMS OF KENNETH ANGER VOLUME 1 is finally available on DVD this January.

Fantoma Films' special edition DVD hits stores on January 23, 2007.

"It's time that Kenneth Anger's work became more available, because he is, without a doubt, one of our greatest artists." Martin Scorsese

Cinematic magician, legendary provocateur, author of the infamous HOLLYWOOD BABYLON books and creator of some of the most striking and beautiful works in the history of film, Kenneth Anger is a singular figure in post-war American culture.

A major influence on everything from the films of Martin Scorsese, Rainer Werner Fassbinder and David Lynch to the pop art of Andy Warhol to MTV, Anger's work serves as a talisman of universal symbols and personal obsessions, combining myth, artifice and ritual to render cinema with the power of a spell or incantation.

Covering the first half of Anger's career, from his landmark debut FIREWORKS in 1947 to his epic bacchanalia INAUGURATION OF THE PLEASURE DOME, Fantoma is very proud to present the long-awaited first volume of films by this revolutionary and groundbreaking maverick, painstakingly restored and presented on DVD for the first time anywhere in the world.

In production for over 5 years, THE FILMS OF KENNETH ANGER VOLUME 1 is easily the most requested title in Fantoma Films' history. Painstakingly restored by Fantoma, these shorts represent the beginning of the independent film movement as we know it today and Anger's revolutionary use of blending film to music has often been credited as giving birth to the music video. The films contained in this set include: FIREWORKS (1947), PUCE MOMENT (1949), RABBIT'S MOON (1950, shown here in the rarely seen 16 minute version), EAUX D'ARTIFICE (1953), and INAUGURATION OF THE PLEASURE DOME (1954).

THE FILMS OF KENNETH ANGER VOLUME 1 contains the following special features:

-High Definition transfers from newly restored elements.
-Screen specific audio commentary for all films from Kenneth Anger.
-Rare outtakes and behind-the-scenes images.
-Restoration Demonstrations.
-A 48 page book with a written appreciation of Kenneth Anger by legendary
filmmaker Martin Scorsese, exclusive to this release, extensive notes for
each film, rare photos, never before seen sketches for Anger's unproduced
film PUCE WOMEN, and more.

Fantoma Films' DVD of THE FILMS OF KENNETH ANGER VOLUME 1 will be available in stores on January 23, 2007 for a retail price of $24.98.
Fantoma Films: www.fantoma.com
MySpace page: www.myspace.com/fantomafilms.
(Thanks to Jay!)
Previously on { feuilleton }
• Ten films by Oskar Fischinger
• Lapis by James Whitney
• La Villa Santo Sospir by Jean Cocteau
• Un Chant d'Amour by Jean Genet