Was the Surrealist movement the first art grouping to give female creators more of an equivalent status to their male counterparts? The recent posting about Leonora Carrington had me considering this question again (yes, this is what taxes my brain while it's awake). The answer isn't so easy to find since women artists had been emerging gradually since the late 19th century, from Berthe Morisot onwards. Women certainly played a greater role in the development of Surrealism than they were allowed to do in earlier art movements, and their work is continually featured in histories of the period. The men were still accorded all the glory, of course, and many of the women were only given an opportunity by virtue of being wives or lovers of the male artists, but they still managed to map out their own imaginative territory. The following are some of the more notable examples.
Birthday by Dorothea Tanning (b.1910).
My personal favourite, a very accomplished painter who married Max Ernst.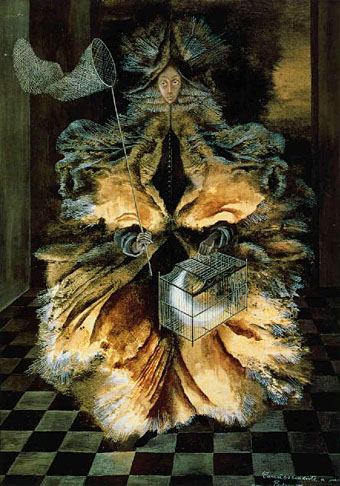 Cazadora de Astros by Remedios Varo (1908–1963).
Mexican artist and a friend of Leonora Carrington.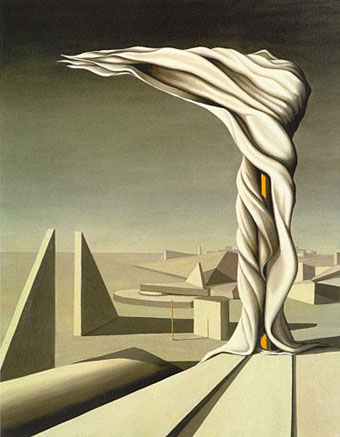 I Saw Three Cities by Kay Sage (1898–1961).
The wife of Yves Tanguy.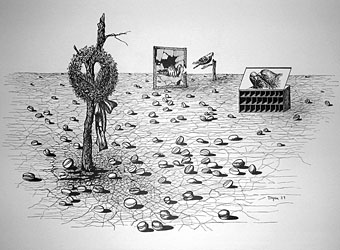 The Shooting Gallery by Toyen (Marie Cermínová) (1902–1980).
A Czech artist who rejected her given name. Poorly represented on the web.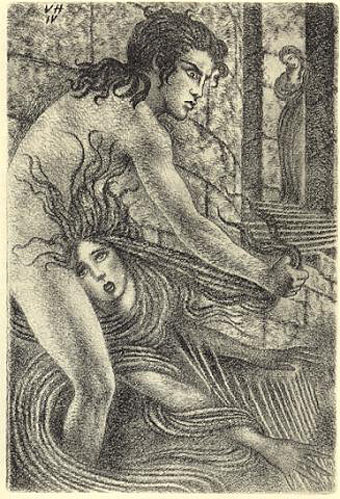 Illustration (title unknown) by Valentine Hugo (1887–1968).
Another painter and illustrator with few examples on websites.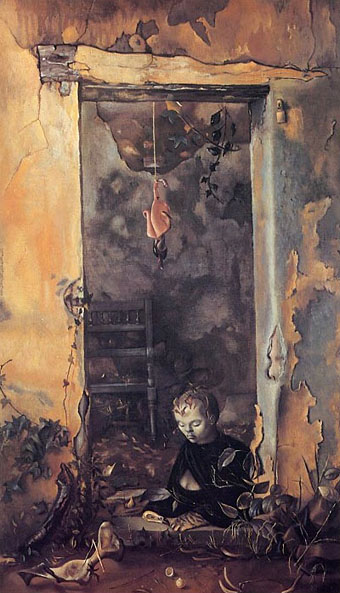 Little Hermit Sphinx by Leonor Fini (1908–1996).
Not always classed among the Surrealists but all her early paintings show a Surrealist influence.
Tendreams.org has a great selection of galleries for Dorothea Tanning, Leonora Carrington, Remedios Varo and Leonor Fini. A shame that their way of presenting the pictures has to be so annoying. Leonor Fini also has an official site.
Elsewhere on { feuilleton }
• The fantastic art archive
Previously on { feuilleton }
• Leonora Carrington