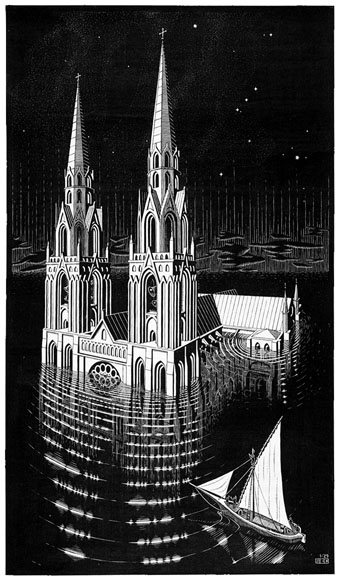 The Drowned Cathedral (1929) by MC Escher.
• "All Saints' was the last of the seven parish churches to fall headlong into the waves. The drowned church was doomed to lie in a gulley not far out to sea, a habitat for sponges and crabs, and yet it lives on, unvanquishable; for—as the story of Britain's lost cities, ghost towns, and vanished villages tells us—what has disappeared beneath the sea can rebuild itself in the mind." Matthew Green explores the history of Dunwich, Suffolk.
• "Why do certain artists endure and become (dread word) 'iconic', while some are forgotten or sidelined or only grudgingly acknowledged?" Ian Penman talking to Jeremy Allen about his new book, Fassbinder Thousands of Mirrors.
• Coming soon from Strange Attractor: A new edition of England's Hidden Reverse, David Keenan's study of the lives and music of Coil, Nurse With Wound and Current 93.
• "What is electronic music?" Daphne Oram, Desmond Briscoe and David Cain of the BBC Radiophonic Workshop are here to explain.
• "Direct evidence of the use of multiple drugs in Bronze Age Menorca (Western Mediterranean) from human hair analysis."
• New music: Timespan by Majeure, and Microdosing by African Head Charge.
• "Future of Borges estate in limbo as widow doesn't leave will."
• Arooj Aftab's favourite albums.
• Paperback Covers on Tumblr.
• The Engulfed Cathedral (1974) by Tomita | Engulfed Cathedral (1981) by John Carpenter | La Cathédrale Engloutie (2003) by Sora