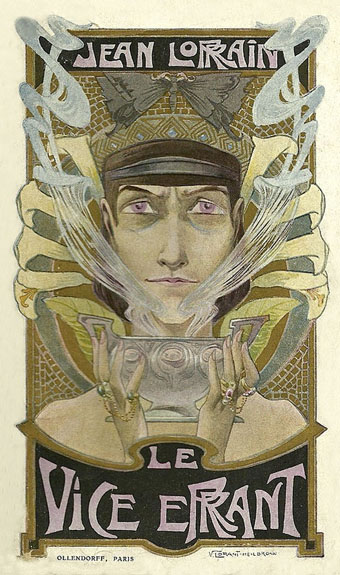 Le Vice Errant (1902) by Vincent Lorant-Heilbronn.
• "So however surreal those cities, the invisible ones that he builds, they have their counterpart in the real. They always have their counterpart in visible cities." Darran Anderson on Italo Calvino's Invisible Cities.
• At Wormwoodiana: Mark Valentine on the centenary of The Riddle and Other Stories by Walter de la Mare, with special attention paid to The Vats, a very strange story.
• New music: A Bad Attitude by African Head Charge; Lapsed Gasps by Push For Night + Jon Mueller; Forevervoiceless by Brian Eno.
The strands of medicine, consciousness expansion, intoxication, addiction, and crime were tightly entangled in fin-de-siècle Paris, where ether and chloroform circulated among bohemian demi-mondaines alongside morphine, opium, cocaine, hashish, and wormwood-infused absinthe. These solvents were often carried in small glass vials and medicine bottles by the asthmatic, tubercular, and neurasthenic, added to patent tonics and syrups, and, on occasion, to cocktails: an ether-soaked strawberry floating in champagne produced a heady rush, the fruit preventing the volatile liquid from evaporating too quickly. Literary references to ether abounded, either as a signifier of decadence or as a literary prop to shift a realistic narrative into the landscape of dreams and symbols, where its dissociative qualities became a portal to strange mental states, psychological hauntings, uncanny doublings, and slippages of space and time.

Mike Jay on Jean Lorrain and the ether dreams of fin-de-siècle Paris
• At Aquarium Drunkard: Jim Jarmusch and Carter Logan talk about the recording of Silver Haze, their first album as Sqürl.
• James Balmont offers a beginner's guide to the films of Dario Argento.
• At Unquiet Things: Rachael Bridge's Luminous, Technicolor Shadows.
• Mix of the week: A mix for The Wire by Erika.
• Ether Ships (1978) by Steve Hillage | Ether (1998) by Redshift | Ether (2000) by Coil