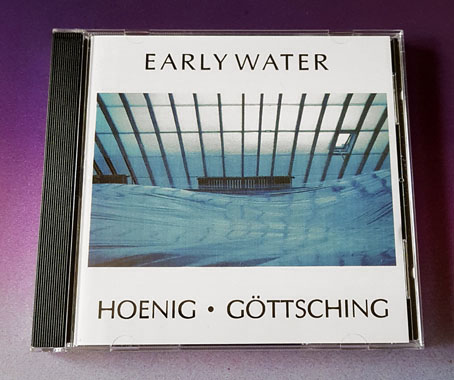 Good to have this rare album reissued at last. A surprise too, as I only spotted it by chance at Bleep.com. I still haven't seen it mentioned as a news item in any of the expected places.
Early Water is a one-off collaboration between Michael Hoenig and the late Manuel Göttsching, a recording of an improvised rehearsal session from 1976 which was shelved until the pair decided to release a CD in 1995. The album has been out of print since 1997 so the reissue is very welcome, especially when secondhand discs had become stupidly expensive. It's also being released for the first time on vinyl although doing this requires splitting its one long track into two parts.
This is one of those albums that might be better known if it hadn't been so hard to find. Musically, it's a like a heavier forerunner of Göttsching's E2-E4: 45 minutes of Hoenig's keyboards and undulating sequencer rhythms over which Göttsching's guitar weaves its patterns. The sequencers and synthesizers are of the type familiar from Tangerine Dream's Rubycon and many Klaus Schulze albums from the same decade; the "Berlin School", in other words, although it's also the school of "Let's switch on the machines and see what happens". Göttsching's guitar had already imitated synthesizers and sequencers on Inventions For Electric Guitar, while a later release, New Age Of Earth (which was mixed by Michael Hoenig) blends guitar and keyboards to create as good an electronic album as anything else being produced in the mid-70s. The guitar on Early Water is treated in a similar manner to complement the keyboards, and for the most part stays low in the mix. There's a lot of soloing here but no histrionics. This isn't a rock album.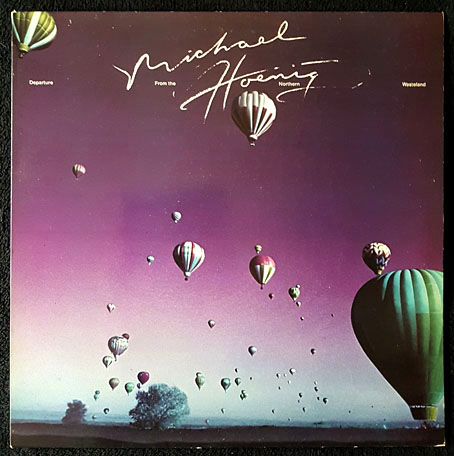 E2-E4 brought Göttsching's music to a wider audience but Michael Hoenig remains known mostly to soundtrack collectors, synth-heads or German music obsessives. Prior to going solo in 1977 he was keyboard player in the excellent Agitation Free, a group I always recommend to anyone getting deeper into the German music of the 1970s. He was also a member of Tangerine Dream for a few weeks in 1975, filling in for Peter Baumann after the latter abruptly left the group during an international tour. It's tempting to wonder how Tangerine Dream might have evolved if Hoenig had been a permanent member for the rest of the decade. We would have been spared the mis-steps of the Cyclone album for a start. What we got instead was Hoenig's own incursion into Tangerine Dream territory with his first solo album, Departure From The Northern Wasteland, in 1977. Early Water doesn't warrant the journalistic cliché of "lost classic" but that term might well be applied to Hoenig's little-known debut, one of the few albums that bears favourable comparison to Tangerine Dream's output in the mid-1970s. It's also an album that's long overdue a reissue. How about it, Bureau B?
Note: I bought my CD from the Juno Records store on eBay. Bleep and a few other places have the CD and vinyl both listed as double-disc releases with no further information supplied. I'm fairly sure this is an error.
• Further reading: Synapse magazine, Vol. 2, No. 5 [PDF], features a lengthy interview with Michael Hoenig in which he discusses his time in Agitation Free, his work with Klaus Schulze and Tangerine Dream, and the composition of Departure From The Northern Wasteland. His reference to "the Berlin school of electronic music" during the interview may be the first appearance in print of that label.
Previously on { feuilleton }
• Manuel Göttsching, 1952–2022
• Cosmic music and cosmic horror