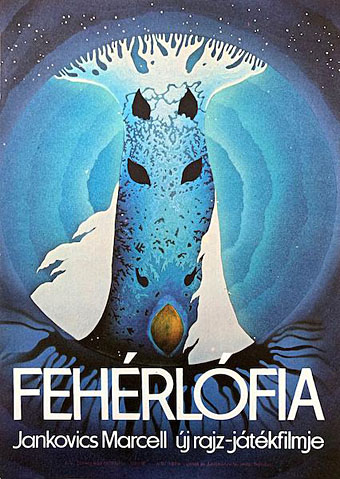 • After writing about Hungarian animator Marcell Jankovics back in January, I left a comment expressing the hope that Arrow or Eureka might give us a Region B blu-ray of Son of the White Mare (aka Fehérlófia), Jankovics's "psychedelic" animated feature from 1982. Fast-forward nine months to Eureka's announcement that they'll be doing exactly this in November. Watch the trailer. The release will include some of the director's short films plus his first feature, Johnny Corncob (1973), a historical tale presented in the "groovy" style (previously) popularised by Yellow Submarine. If idle wishes can be granted so easily then I'll hope again that Eureka might do the same for René Laloux's second and third animated features, the Moebius-designed Time Masters (1982) (made in the same studio as Son of the White Mare) and the Caza-designed Gandahar (1987). Fingers crossed.
• "I don't think anybody copies me, but Harmony Korine, Todd Solondz, Bruno Dumont, Gaspar Noé, I like those kinds of directors. They're sometimes not funny at all. They're very serious and eerily melodramatic. I just like movies that surprise me." John Waters (yet again) talking to Conor Williams about films, writing and a prayer for Pasolini.
• "There is something profoundly haunting about a master artist's last painting left unfinished upon its easel…" Kevin Dann on The Mermaid (1910) by Howard Pyle.
• At Bandcamp: Navigating the Nurse With Wound List: A Gateway to Far-Flung Sounds.
• "Juicy With Meaning": Alex Denney chooses five essential films by David Cronenberg.
• Mix of the week: Discovering 1970s jazz fusion with Kerri Chandler.
• Coming soon from Strange Attractor: Purgatory by Ken Hollings.
• Steven Heller's font(s) of the month: Farandole & Lustik.
• Dennis Cooper's favourite albums.
• RIP Peter Straub.
• White Horses (1968) by Jacky | Five White Horses (1968) by Sun Dragon | Ride A White Horse (2006) by Goldfrapp