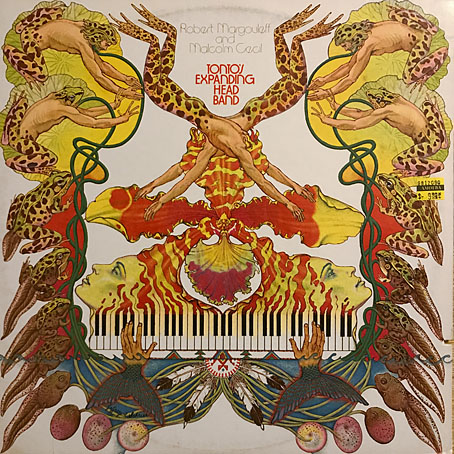 Cover art by Jeffrey Schrier for the 1975 reissue of Zero Time by Tonto's Expanding Head Band.
• RIP Malcolm Cecil, electronic musician, and producer of Stevie Wonder, among many others. The term pioneer is over-used when discussing electronic artists, but it's an accurate one when applied to Cecil and his partner in Tonto's Expanding Head Band, Robert Margouleff. The first Tonto album, Zero Time (1971), was a collection of fully-realised all-electronic compositions recorded in the days when "electronic music" in the rock sphere usually meant rock-band-plus-synth-burbles. As I said in a post about Tonto's debut album a few years ago, "Jetsex sounds like an outtake from Kraftwerk's Autobahn (albeit three years early) while Timewhys wouldn't have been out of place on The Human League's Travelogue album almost a decade later". Cecil may be seen in this short film showing off the bespoke synth gear that comprised The Original New Timbral Orchestra (aka TONTO), while he talks at length about his career in issue 4 of Synapse magazine here. Cecil and Margouleff parted company in the mid-70s shortly after releasing a second album, It's About Time (1974), a collection of jazzy instrumentals that's overdue a proper reissue.
• "Every film production company they showed it to said it was 'too weird' to ever be made. " Next month Strange Attractor publishes The Otherwise, a script by Mark E. Smith and Graham Duff for an unmade horror film.
• More horror: Predator's Ball by Uni; music video as horror scenario in which you can play spot-the-reference: Alice in Wonderland, Rocky Horror, Leigh Bowery (?), Pasolini's Salò (?)…
• At Bibliothèque Gay: Narkiss by Jean Lorrain, another homoerotic classic newly translated into Spanish, and with new illustrations.
• The week in Gary Panter: Nicole Rudick on Gary Panter's Punk Everyman, and the man himself writing about his life and art.
• At Wormwoodiana: Mark Valentine investigates the connections between Charles Williams and Sax Rohmer.
• At Dangerous Minds: New Age Steppers, "the only ever post-punk supergroup".
• Mix of the week: XLR8R Podcast 689, a feast of funk compiled by Steve Arrington.
• At Public Domain Review: Agostino Ramelli's Theatre of Machines (1588).
• At Dennis Cooper's: Pier Paolo Pasolini Day.
• Valentina Magaletti's favourite music.
• Narcissus Queen (1958) by Martin Denny | Narciso (1974) by Pierrot Lunaire | Narkissos (2006) by Sadistic Mikaela Band