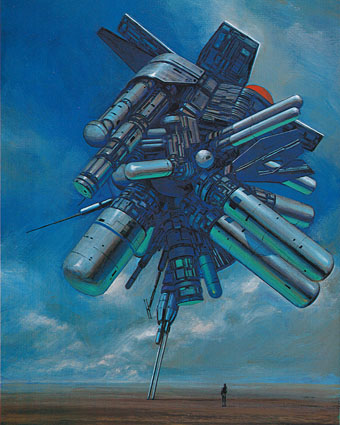 Art by Naoyuki Katoh, 1982.
• RIP Paul Reubens. Here's Steven Heller on Pee-wee Herman and his clinically hyperactive playhouse (not forgetting Gary Panter's involvement); Bruce Handy on Paul Reubens' preposterous grace; and David Hudson on Paul Reubens before and after Pee-wee.
• Three Thousand (2017), a short film by Asinnajaq in which "a riveting collage portrays a century of Inuit history, and envisions a vibrant future".
• New music: Velocity Of Water by Suki Sou; The Blue Beyond by Jana Winderen; and Jäi mieleen by Aki Yli-Salomäki.
• DJ Food posted a handful of psychedelic LP sleeves for non-psychedelic artists. There's a lot more to be found.
• "We had no rules. Song structure didn't exist. It was nihilistic." It's Bush Tetras again.
• "Infrared light reveals hidden portrait beneath 1943 René Magritte painting."
• At Dennis Cooper's: Gakuryu Ishii Day.
• Tequila (1958) by The Champs | Tequila (1958) by Perez Prado | Tequila (1972) by Hot Butter