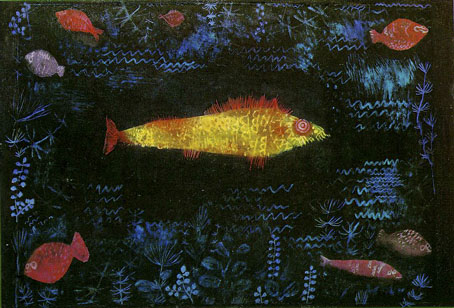 Der Goldfisch (1925) by Paul Klee.
• At Wormwoodiana: Mark Valentine compiles a list of finest quality old English yarns. I'm currently working my way through The Count of Monte Cristo, a novel which is a yarn-and-a-half, so I appreciate this one.
• Mixes of the week: Salve Mix for Art of Beatz by The Ephemeral Man, and Mwandishi: Wandering Spirit Songs from Aquarium Drunkard.
• Coming in October from Strange Attractor: Death Lines: Walking London's Horror History by Lauren Jane Barnett.
• At Dangerous Minds: A teaser for Lost Futures: A Film About Mark Fisher with music by Mark Stewart.
• New music: Niemandsland by Pyrolator, and Full Circle by The Advisory Circle.
• At Spoon & Tamago: Obsessive painter of goldfish, Riusuke Fukahori.
• Old music: Silberland: Kosmische Musik Vol 1 (1972-1986).
• At Dennis Cooper's: Gig #103: Judy Nylon.
• RIP David Warner.
• Future Days (1973) by Can | Future Ghosts (1982) by Chrome | Failed Future (2011) by Master Musicians Of Bukkake