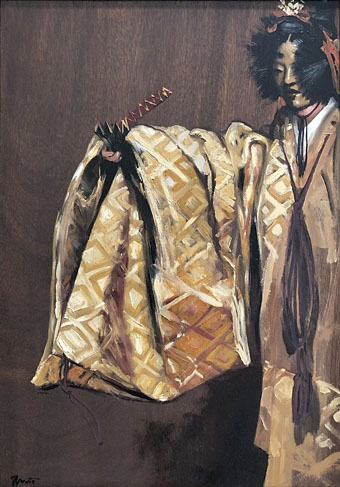 Sleeve Study, from Kakitsubata (1998) by Paul Binnie.
• "London was not a project for me. It was the curse that never stops giving." Iain Sinclair talking to Matthew Stocker about his new book for Swan River Press, Agents of Oblivion.
• The Ultimate DMT Breakthrough Replication Compilation, a video guide to the DMT experience by Josie Sims. Related: Kristen French on what hallucinogens will make you see.
• At Spoon & Tamago: A return to Tokyo Genso's depictions of an urban Japan transformed by vegetation and neglect.
• New music: The Shell That Speaks The Sea by David Toop & Lawrence English.
• At Bajo el Signo de Libra: San Sebastián de Mártir a Icono Homosexual.
• Cosmic views from the Milky Way Photographer of the Year, 2023.
• Nakamura Mitsue makes a Noh mask from a single block of wood.
• Mix of the week: A mix for The Wire by Eleni Poulou.
• At Dennis Cooper's: Delphine Seyrig Day.
• Of Ancient Memory (The Oblivion Seekers) (1994) by Jarboe | Oblivion (2001) by Lustmord | Oblivion (2004) by Redshift