The Song of Love (1914) by Giorgio de Chirico.
His art studies, begun in Athens, were continued in Munich where he discovered the work of Max Klinger and Arnold Böcklin, not to mention the writings of Friedrich Nietzsche and Arthur Schopenhauer, whose influence is perceptible in the paintings he went on to produce in Florence and Turin. In addition, his melancholy temperament lay behind the works that Guillaume Apollinaire labelled "metaphysical," works in which elements from the real world (deserted squares and arcades, factory chimneys, trains, clocks, gloves, artichokes) were imbued with a sense of strangeness.

Keith Aspley, Historical Dictionary of Surrealism
---
The Enigma of a Day (1914) by Giorgio de Chirico.
---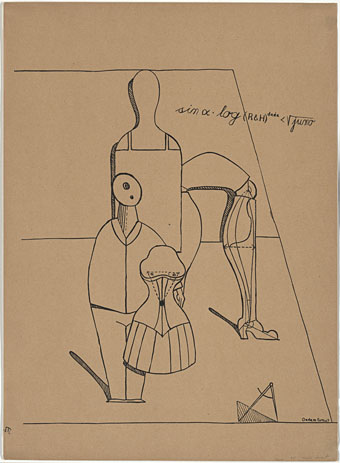 Plate II from Let There Be Fashion, Down With Art (Fiat modes pereat ars) (1920) by "Dadamax Ernst".
---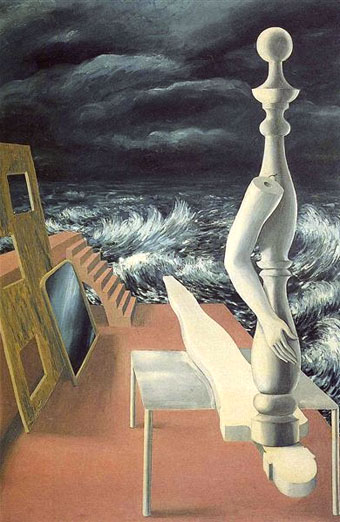 The Birth of an Idol (1926) by René Magritte.
Some time during the latter part of 1923 [Magritte] came face-to-face with his destiny, in the form of a painting by Giorgio de Chirico, who was one of the painters most admired by the Paris Surrealists: Le Chant d'amour (The Song of Love, 1914); to be more precise, a black-and-white reproduction of that painting in the review Les Feuilles libres, a very contrasty reproduction, as Sylvester has it, which only heightened the drama of the outsize objects suspended in the foreground of one of de Chirico's "metaphysical landscapes"… He was shown it by Lecomte, or Mesens, or both. He was overwhelmed. […] Magritte always spoke of de Chirico as his one and only master. As a rule, he was exceedingly parsimonious in his assessment of other artists, past and present. In his own time, de Chirico (1888–1978) and Ernst (1891–1976) appear as the only two he admired, more or less unconditionally.

Magritte: A Life by Alex Danchev
---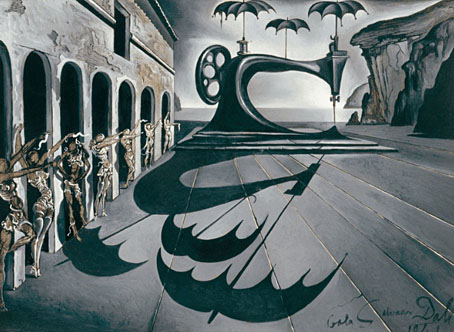 Sewing Machine with Umbrellas in a Surrealist Landscape (1941) by Salvador Dalí.