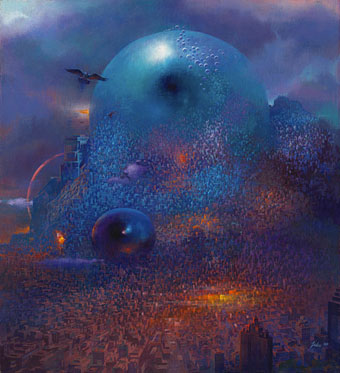 City with Eyes in Blue (1989) by Paul Lehr.
• "Lehr chose science fiction illustration because he saw it as a path to making a living and an opportunity to 'depict the epic'. 'War, destruction, celebration, congestion, marching armies, waving flags and banners—the strange and mysterious atmosphere of it all, rather than the literal illustration.'" Jane Frank on the art of Paul Lehr (1930–1998).
• "Time isn't the only thing Harrison treats as firmly malleable. The same is true of his willingness to play with genre conventions…" Tobias Carroll on M. John Harrison, and an article where you have to ignore the clickbait clichés in the headline.
• The narrators for the forthcoming audiobook of Voice of the Fire by Alan Moore have been revealed.
• At Public Domain Review: A remembrance of aerial forms: Odilon Redon's À Edgar Poe.
• The weight of the ritual: Frank Rynne on The Master Musicians of Joujouka.
• "Cerne Giant in Dorset dates from Anglo-Saxon times, analysis suggests."
• Aaron Moth, the artist creating exquisite collages from vintage [gay] porn.
• Clive Hicks-Jenkins on revision in illustration.
• At Wikimedia Commons: Lesbian pulp fiction.
• Mix of the week: A Wire mix by BLK JKS.
• At Dennis Cooper's: Psychedelics.
• Colleen's favourite albums.
• Ritual Fire Dance (1969) by Tuesday's Children | Ritual (1973) by Vangelis | Rituals (1981) by Bush Tetras