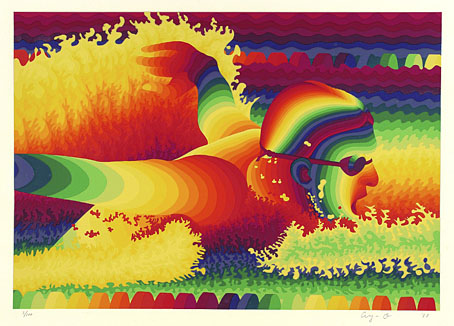 Butterfly (1988) by Ay-O.
• "[Mike] Jay says there are notional lessons to be learned about what happens next from the characters who populate Psychonauts but says they would have been of greatest benefit to 'the legislators, the bureaucrats, the statisticians and social scientists of the early 20th century who created the idea of "good drugs" and "bad drugs".' It is the framework of 'drugs' itself which needs to be dismantled." John Doran discussing Psychonauts: Drugs and the Making of the Modern Mind with the book's author, Mike Jay. The piece ends with an extract from the book itself. There's another extract at Nautilus.
• "From the eerie electronics of Earth Calling through to the warp speed crescendo of Master Of The Universe, Space Ritual is like no other live record released at the time or since." Joe Banks explores the events that led to the recording of the definitive Hawkwind album, Space Ritual, which was released 50 years ago this week.
• "You know, it's actually all about life, and love, and death, and it's sexy, and it's funny and it's not depressing." Simon Fisher Turner talking to Emily Bick about Blue Now, a new live staging of Derek Jarman's final film.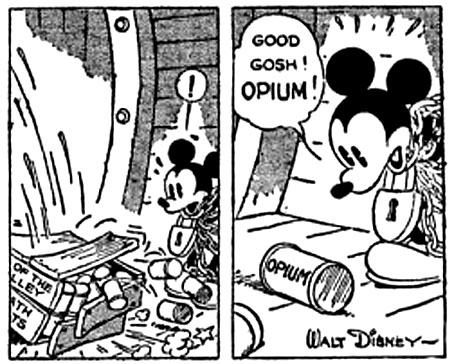 From The Castaway Captives (1934): Mickey Mouse in a deep fix.  Ignore the signature, this one was written and illustrated by Floyd Gottfredson.
• New music: Kinder Der Sonne (From Komplizen) by Alva Noto, and S.W.I.M. by Gunnar Jónsson Collider.
• Mixes of the week: Isolatedmix 120 by Lord Of The Isles, and XLR8R Podcast 799 by KMRU.
• Take a radiating, immersive trip into Ay-O's Happy Rainbow Hell.
• At Dennis Cooper's: New Queer Cinema 1985–1998 Day.
• Steven Heller's font of the month is Hopeless Diamond.
• Rainbow Chaser (1968) by Nirvana | Rainbows (1969) by Rainbows | Rainbow (2006) by Boris With Michio Kurihara