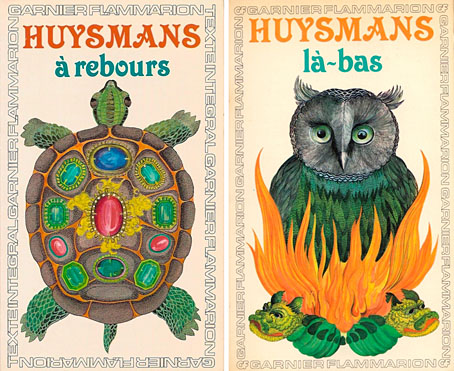 A pair of Huysmans covers from 1978 designed by Gérard Deshayes.
• Friends of the great composer/musician Jon Hassell set up a GoFundMe account a few days ago to help raise money for Jon's medical costs. It's always dispiriting having to link to these fund-generators when they shouldn't be required at all but until America sorts out its health situation this is how things are. For those who'd prefer to help Jon by buying his music, there's a Bandcamp page with a handful of releases, and more available at Bleep, the online distributor of Warp Records who helped produce his last release, Listening To Pictures (Pentimento Volume One). Related: Words With The Shaman: Jon Hassell interviewed by Chris May.
• Every time I think I must have heard all the best of the early Kraftwerk concerts another one turns up. This new posting at YouTube is taken from a recent file upload at the concert-swapping site Dimedozen, and is believed to be a radio recording of the group playing in Vancouver, Canada, in 1975. It's very good quality (some slight bleed from other stations) and features excellent versions of their concert repertoire at that time. The version of Autobahn is especially good.
• in 2009 Dana Mattocks built a machine he called Steampunk Frankenstein, a construction which was attended by a frame containing my first piece of steampunk art. Dana's latest creation is TILT, the Robot with Rocket Jet-Pack.
• RIP Tony Allen, the drummer about whom Fela Kuti said "without Tony Allen, there would be no Afrobeat". Allen was interviewed by John Doran in 2012. Related: Tony Allen: the Afrobeat pioneer's 10 finest recordings.
• "Robert Fripp's 'Music for Quiet Moments' series. We will be releasing an ambient instrumental soundscape online every week for 50 weeks. Something to nourish us, and help us through these Uncertain Times."
• How to avoid Amazon: the definitive guide to online shopping – without the retail titan; Hilary Osborne & Poppy Noor have some suggestions. I favour eBay for many of my purchases, large or small.
• Adam Scovell on A Cinematic Lockdown: Confinement in the films of Alfred Hitchcock.
• Liberty Realm, a book of art by Cathy Ward, is coming soon from Strange Attractor.
• One Great Reader: Luc Sante talks to Wes del Val about his favourite books.
• Oscar Wilde and the mystery of the scarab ring by Eleanor Fitzsimons.
• Unica Zürn at Musée D'art Et D'histoire De L'hôpital Sainte-Anne.
• Mix of the week: Secret Thirteen Mix 302 by Avizohar.
• Another concert: Tuxedomoon live in Rome in 1988.
• Rarefilmm | The Cave of Forgotten Films.
• At Dennis Cooper's: Ghosts.
• Ghost Song (1978) by Jim Morrison & The Doors | Ghost Song (2000) by Air | Ghost Song (2005) by Patrick Wolf