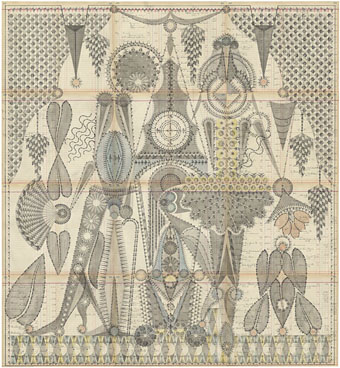 Couple with Clock Tower (2011) by Louise Despont.
Assuming such a thing doesn't already exist, there's a micro-thesis to be written about the associations between the musicians of Germany's Krautrock/Kosmische music scene in the early 1970s and the directors of the New German Cinema. I'd not seen this clip before which shows the mighty Amon Düül II jamming briefly in Fassbinder's The Niklashausen Journey, a bizarre agitprop TV movie made in 1970. More familiar is the low-budget short that Wim Wenders helped photograph a year earlier showing the Düül performing Phallus Dei. Wenders later commissioned Can to provide music for the final scene of Alice in the Cities. And this is before you get to Werner Herzog's lengthy relationship with Popol Vuh which includes this memorable moment. Any others out there that I've missed?
• Album sleeves in their original locations. And speaking of album sleeves, photo prints of some very famous cover designs by Storm Thorgerson will be on display at the Public Works Gallery, Chicago, throughout September and October.
• Crazy for kittehs: the quest to find the purring heart of cat videos: Gideon Lewis-Kraus goes where few journalists dare to tread. Also at Wired, the same writer explores the Cat Cafés of Tokyo.
• The City of Rotted Names, a "shamelessly Joycian cubist fantasy" by Hal Duncan, available to read in a variety of formats on a pay-as-thou-wilt basis until Monday only.
• Jailhouse rockers: How The Prisoner inspired artists from The Beatles to Richard Hawley.
• How To Survive A Plague, a documentary about HIV/AIDS activism in the US.
• Deborah Harry: hippy girl in 1968, punk in 1976, and Giger-woman in 1981.
• Alan Garner answers readers' questions about his new novel, Boneland.
• For steampunk aficionados: 'COG'nitive Dreams by Dana Mattocks.
• David Bowie, Iggy Pop, Madonna & Asparagus: Kraftwerk in 1976.
• New music videos: Goddess Eyes I by Julia Holter | Sulphurdew by Ufomammut | Warm Leatherette by Laibach.