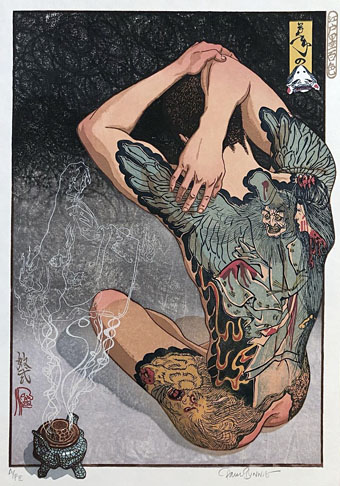 Yoshitoshi's Ghosts (2004) by Paul Binnie.
• "The later Grand Etteilla series, printed well into the nineteenth century, and the present-day proliferation of Tarot decks, following ephemeral fads and fashions, all trace their origins to this beautiful and beguiling creation from the enigmatic Egyptophile at 48 Rue de L'Oseille." Kevin Dann on the Livre de Thot Tarot (ca. 1789) by Jean-Baptiste Alliette, better known as "Etteilla".
• "Death is not a subject he has ever shied away from, in his fiction or conversation. Indeed, he has measured other writers by how seriously they address it." Richard B. Woodward on his friend, Cormac McCarthy, and McCarthy's new novels. There's an exclusive extract from The Passenger here.
• "…addicts, psychopaths, lovelorn outsiders, cult leaders, lesbian and gay icons…you name it, the vampire has become it." Christopher Frayling on the perennial popularity of the vampire, and a new book collection of vampire film posters.
• Robert Wilson's new production of Ubu Roi by Alfred Jarry is "a sinister, multilingual pantomime bathed in red light and looped in noise…fittingly violent, absurd, ominous and infantile".
• "What kind of music goes with a show that originates in deep space?" Aquarium Drunkard on Sonny Sharrock's final recordings, the soundtrack music for Space Ghost Coast To Coast.
• At Wormwoodiana: Mark Valentine takes a fresh look at the health of secondhand bookshops in Britain.
• Tokyo nightlife photographed by Hosokawa Ryohei.
• New music: Approach by Lawrence English.
• The Passenger (1977) by Iggy Pop | The Passenger (1987) by Siouxsie And The Banshees | The Passenger (1997) by Lunachicks