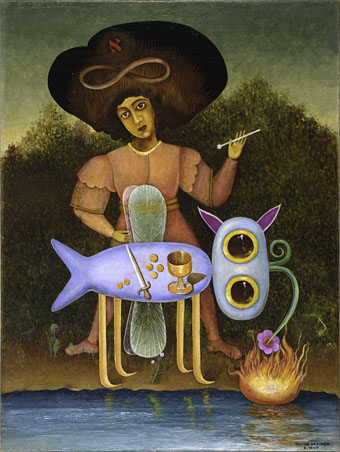 The Surrealist (1947) by Victor Brauner.
• At Dennis Cooper's: Terry Ratchett presents…18 needlessly obscured avant-garde films by Thomas White, Teinosuke Kinugasa, George Barry, Standish Lauder, Helge Schneider, Dusan Makavejev, Oliver Herrmann, Mauricio Kagel, Mamoru Oshii, Gian Carlo Menotti, Pat O'Neill, Vera Chytilová, Shozin Fukui, Willard Maas, Djouhra Abouda and Alain Bonnamy, Juraj Herz, and Jay Schlossberg-Cohen.
• "When I'm convinced that a certain type of book is completely beyond the capacities of my temperament and my technical skills, I sit down at my desk and start writing it." Italo Calvino discussing his approach to writing in 1983. The essay, The Written World and the Unwritten World, gives its title to a collection of previously unavailable Calvino pieces translated by Ann Goldstein. John Self reviewed the book.
• New music: Komplett Kollaps (A Dedication To Jóhann Jóhannsson) by Rúnar Magnússon, and Composition 1 by Deathprod.
Brann's new book sweeps across the vast range of things that hold her interest. It thus invites us to enjoy the life of the mind and to live from our highest selves. A thoughtful encounter with this book will make you, I swear, a better person. The book includes chapters on Thing-Love, the Aztecs, Athens, Jane Austen, Plato, Wisdom, the Idea of the Good. The first half provides an on-ramp to the chapter titled "On Being Interested," which falls in the dead centre of the book. This central chapter serves as more than a cog in the wheel: it is an ars poetica. Addressing issues of attention, focus, and interest itself, as well as how and where to deploy these functions throughout our lives, "Being Interested" offers a solution for any seeker intrigued by the notion that happiness is not an accident but a vocation. Brann characterizes the pursuit of happiness as "ontological optimism […] to be maintained in the face of reality's recalcitrance."

Peggy Ellsberg reviewing The Habit of Interestedness by Eva Brann
• "God told me I should take more LSD." Sari Soininen on her acid-induced photographs.
• At Public Domain Review: The Procession of the Months by Walter Crane.
• At Smithsonian Magazine: See the chilling beauty of winter on Mars.
• Steven Heller's font of the month is Edie & Eddy Slab.
• RIP Michael Snow, film-maker and musician.
• Kollaps (1981) by Einstürzende Neubauten | Feed The Collapse (1992) by Main | Collapsing Inwards (2014) by Jóhann Jóhannsson