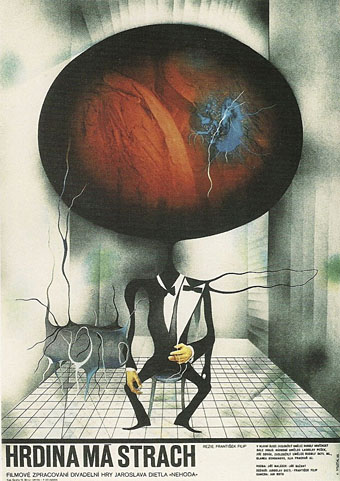 The Hero is Afraid (1965).
Film posters by Czech artist Josef Vyletal (1940-1989) have appeared here in the past, but after watching Juraj Herz's gloomily Gothic Beauty and the Beast (1978) at the weekend—a film for which Vyletal not only created a poster but also provided the title sequence and paintings seen within the film—I thought the artist deserved a post of his own.
Josef Vyletal was a prolific poster artist and designer—the Terry Posters website states that he created 115 designs for the cinema—who also worked as a book illustrator. Between commercial assignments he produced paintings in a macabre Surrealist style that filtered into his commercial work, the Herz titles included. The absence of barriers between private obsessions and commercial imperatives is what makes the film posters created by Czech and Polish artists so attractive, as well as so surprising to Anglophone viewers. There's no sense of these works being produced by committee, of a gaggle of marketing executives fretting over details behind the scenes. Some of Vyletal's interpretations are so extreme and uncompromising by Hollywood standards it's impossible to imagine even an adventurous chain like Alamo Drafthouse commissioning them, never mind a risk-averse studio. One of the designs I singled out for an earlier post is an ideal example, a poster for Alfred Hitchcock's The Birds which dispenses with any visual reference to the film in favour of a liberal borrowing of the bird-headed figures from Max Ernst's The Robing of the Bride. It's a commonplace when discussing the films of Jan Svankmajer to situate the director in the history of Czech Surrealism which remained a clandestine movement during the Communist years. But Vyletal's paintings demonstrate a confidence that the average Czech filmgoer could accept Surrealist imagery when being tempted by the latest fare from Hollywood.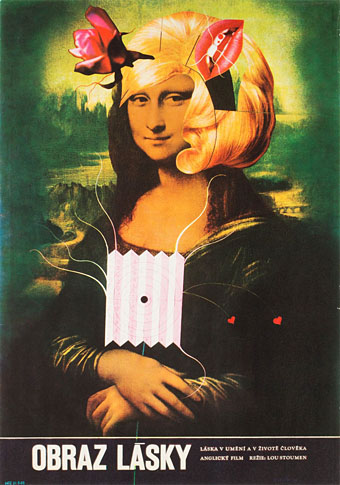 The Naked Eye (1966).
Given my own tastes for Surrealist imagery many of the examples shown here tend in this direction. Vyletal was a versatile artist who utilised a number of different styles, including collage and a bold graphic style of black shapes on coloured backgrounds. In addition to borrowing from Ernst he also borrowed (or swiped) figures from Aubrey Beardsley on at least two occasions (see below). Most of the examples here are collages augmented by or combined with paint, collage being a quicker solution when faced with deadlines. Terry Posters has many more examples.
(Note: the name Vyletal should include an accent but the coding on this blog throws up errors when it encounters unusual accents. My apologies to Czech readers.)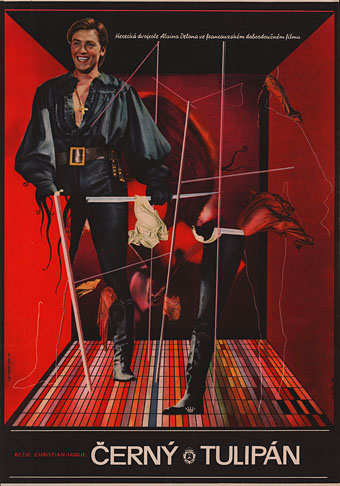 The Black Tulip (1967).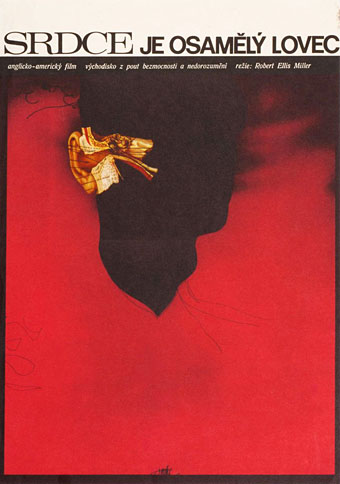 The Heart is a Lonely Hunter (1968).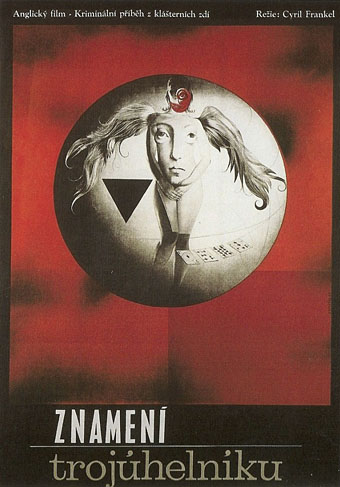 The Trygon Factor (1968).