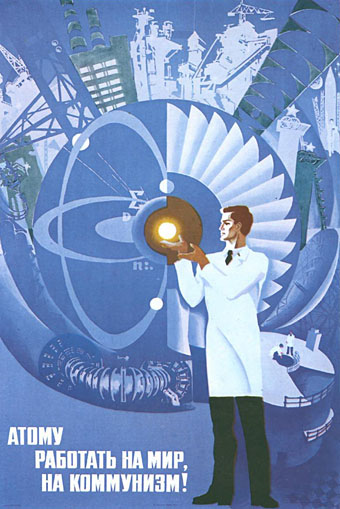 "The atom shall work for peace…" Soviet poster promoting the benefits of nuclear power.
• RIP Mac Rebennack aka Dr. John Creaux, The Night Tripper. Dan Auerbach remembers the man whose return to funky form, Locked Down, he produced in 2012. Elsewhere, Michael Hurtt details Mac Rebennack's pre-Dr. John exploits; some of his music from that period is linked at the end of this post. Entries at YouTube are inevitably skewed to the present but among the older clips you'll find these: The Doctor and his band in full voodoo regalia miming to Zu Zu Mamou on the Something Else TV show; audio extracts from a Dutch festival performance in 1970, here and here; more quality audio from a 1972 concert in Syracuse, NY; and an hour-long Chicago TV show from 1974 featuring Dr. John, Professor Longhair, The Meters, and Earl King.
• More Tangerine Dream: all the soundtrack music for Vampira (1971), a drama-documentary directed by George Moorse for German TV. Recommended to those who like the group's Ohr period.
• More Chernobyl: a photo-essay by Tom Skipp featuring survivors of the disaster, and from 2013, Hari Kunzru's report from the Exclusion Zone.
• At The Quietus: Lottie Brazier on The Strange World of Stereolab, and Ned Raggett talking to Liz Harris about her Nivhek project.
• The sixth edition of Wyrd Daze—"The multimedia zine of speculative fiction + extra-ordinary music, art & writing"—is out now.
• Clark Ashton Smith: The Emperor of Dreams, a DVD of the feature-length documentary by Darin Coelho Spring.
• Moon Wiring Club is back this month with fresh releases at Bandcamp, a YouTube post, and the EVP MVP Mix.
• Once the "Swingingest Street in the World": Rob Baker on pictures of Carnaby Street 1924–1975.
• New video footage of Coil playing live at All Tomorrow's Parties, 6th April, 2003.
• Dean Hurley explores life after death on Philosophy of Beyond.
• Tom Walker on Harry Clarke's uncanny visions of Ireland.
• Alex Barrett on where to begin with Alain Resnais.
• Martin Parr's Soviet space dog collection.
• Dennis Cooper winds you up.
• Storm Warning (1959) by Mac Rebennack | Morgus The Magnificent (1959) by Morgus & The 3 Ghouls | Sahara (1961) by Mac Rebennack & His Orch.