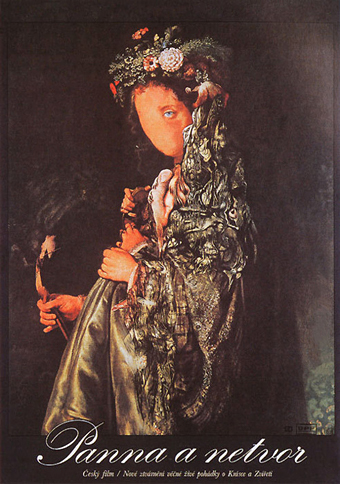 Poster for Beauty and the Beast (1978) by Josef Vyletal.
• Next month, Second Run release Juraj Herz's 1978 adaptation of Beauty and the Beast on region-free blu-ray. I watched this last year on a Czech DVD so it's good to hear it's being given an upgrade. Herz's film is a distinctly sinister take on the familiar tale, with a bird-headed Beast that's closer to Max Ernst than anything you'll find in illustrations for Perrault's stories.
• "In a coincidence so unlikely it almost seems, well, magical, the girls traced illustrations from a book of folklore that also contained a short story by Sir Arthur Conan Doyle himself, a reflection of a reflection of a reflection." Audrey Wollen on the Cottingley fairy photographs. Related: The Coming of the Fairies by Arthur Conan Doyle.
• "[Mark E. Smith], with his love of Stockhausen, HP Lovecraft, and (bizarrely) the sitcom Keeping Up Appearances, becomes a reverse coder, an apostle of avant pulp, a 'paperback shaman'." Sukhdev Sandhu reviews Excavate! The Wonderful and Frightening World of the Fall, edited by Tessa Norton and Bob Stanley.
• "Found photos of men in love from 1850–1950". Maybe. As before, I'm always cautious about imposing a narrative on old photographs.
• Mixes of the week: A mix for The Wire by Pamela Z, and a dose of post-punk esoterica by Moin for XLR8R.
• DJ Food takes another dive into back issues of International Times in search of ads for London's Middle Earth club.
• At The Smart Set: Colin Fleming watches John Bowen's drama of pastoral horror, Robin Redbreast.
• At Dennis Cooper's: Heavily plotted non-linear structures whose velocity lacks narrative drive.
• Ryan Gilbey attempts to rank Robert Altman's features into a list of 20 best.
• Still Farther South: Poe and Pym's Suggestive Symmetries by John Tresch.
• New music: At One Point by Scorn.
• Visionist's favourite albums.
• The Beast (1956) by Milt Buckner | Leggo Beast (1978) by Gregory Isaac's All Stars | This Beast (1983) by Tuxedomoon