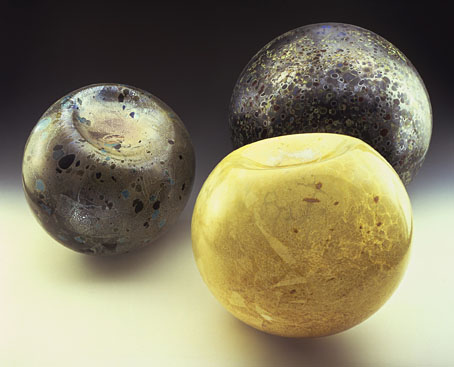 Niijima Floats: Mottled Blue Black Float with Silver Leaf (1991) by Dale Chihuly.
• "Blue whale songs fall below the range of human hearing. If you want to listen to one, to actually hear its ethereal patterns of wobbly pulses and haunting moans, you have to speed it up by at least two-fold. But according to Hildebrand and McDonald's instruments, the tonal frequencies of the songs had been sinking to even greater depths for three straight years. 'This is weird,' Hildebrand thought. To figure out if it was just an anomaly or something more, Hildebrand and McDonald embarked on a quest to find some really old songs. Eventually they got their hands on some of the earliest known recordings, created by the Navy in the 1960s and stored on analog cassettes. They were floored. The frequencies had declined by 30 percent over 40 years." Kristen French on a mysterious development in blue whale songs.
• "She didn't see it as a game, or for divination, but as a model of the universe." Joanna Moorhead on the Tarot designs of Leonora Carrington.
• "A collection of blogs about every topic": ooh.directory. (Ta to whoever added this place to the list.)
• New music: Pop Ambient 2023 by Various Artists, and Aeolian Mixtape by Quinta.
• At Public Domain Review: The Tanzmasken of Lavinia Schulz and Walter Holdt.
• At Wormwoodiana: Mark Valentine on mazes and labyrinths. (Previously)
• At Spoon & Tamago: Paper-cut cityscapes by kirie artist Hiroki Saito.
• At Smithsonian Magazine: The Unrivaled Legacy of Dale Chihuly.
• Mix of the week: Neo-Medieval Mix by Moon Wiring Club.
• Old music: Back To The Woodlands by Ernest Hood.
• At Dennis Cooper's: Jacques Rivette Day.
• Weyes Blood's favourite music.
• (Gorgeous Curves Lovely Fragments Labyrinthed On Occasions Entwined Charms, A Few Stories At Any Longer Sworn To Gathered From A Guileless Angel And The Hilt Edges Of Old Hearts, If They Do In The Guilt Of Deep Despondency.) (2004) by Akira Rabelais | The Private Labyrinth (2008) by The Wounded Kings | Labyrinths (2018) by Jonathan Fitoussi & Clemens Hourrière