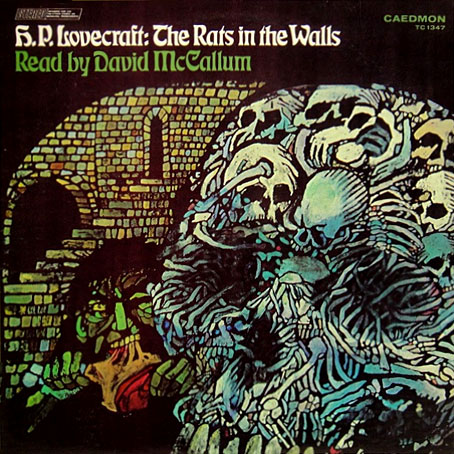 Art by Leo and Diane Dillon.
RIP David McCallum, who I prefer to remember for his role as one half of the weirdest-TV-duo-ever, Sapphire and Steel. McCallum was a minor sex symbol in the 1960s, thanks to The Man from U.N.C.L.E., a celebrity that led to his conducting a series of instrumental pop albums. I've never heard any of these but they have their champions. They were followed in the 1970s by a number of readings for the Caedmon label which included three albums of HP Lovecraft stories. The Dunwich Horror is one I've referred to in the past since I used to own a knackered copy. As a reading it's pretty good, slightly edited but with the novelty of allowing you to hear McCallum recite the famous "As a foulness shall ye know them" passage from the Necronomicon. These commissions no doubt came about simply because McCallum was available but his Lovecraft recordings gain a deeper resonance in the light of his later exploits with Joanna Lumley in the haunted corridors of Time. Some of the malign forces that Sapphire and Steel face aren't so distant from Lovecraft's interdimensional "Old Ones", unfathomable entities seeking ingress to the material universe.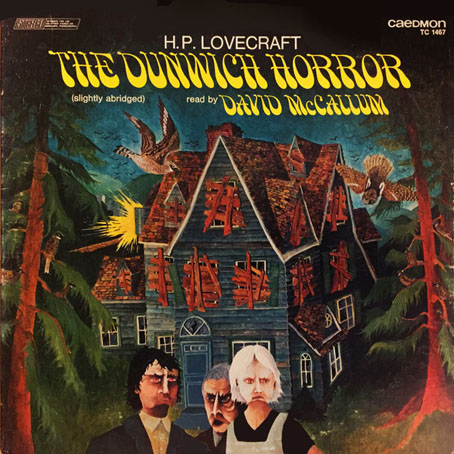 Cover art uncredited.
All of the McCallum Lovecraft albums are now on YouTube so the curious may listen to the recordings without searching for rare (and expensive) vinyl:
• The Rats in the Walls (1973)
• The Dunwich Horror (1976)
• The Haunter of the Dark (1979)
The reading of The Rats in the Walls doesn't edit Lovecraft's xenophobia so anyone unwilling to hear a racial epithet used as a name for a pet cat should avoid that particular recording. The first album, which included a sleeve note from August Derleth, is also the only one of the three that was reissued. I wonder whether The Dunwich Horror might have fared better if it didn't have such appallingly amateurish cover art. A shame the Dillons weren't able to illustrate that one as well.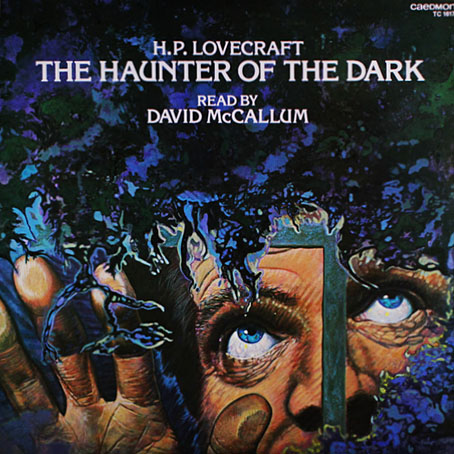 Art by Les Katz.
Elsewhere on { feuilleton }
• The Lovecraft archive
Previously on { feuilleton }
• Haunted Corridors: The Temporal Enigmas of Sapphire and Steel