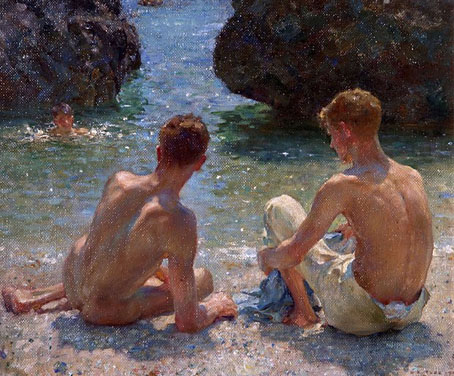 The Critics (1927) by Henry Scott Tuke.
• Geeta Dayal talks to ambient musician Midori Takada about Through The Looking-Glass (1983), an album being reissued this month by Palto Flats/We Release Whatever The Fuck We Want Records.
• Jacob Brogan reviews The Abominable Mr. Seabrook by Joe Ollmann, a graphic biography of writer, occultist, explorer and determined cannibal, William Seabrook.
• More from the usual suspects (on these pages at least): Jonathan Meades on his new cookbook and a recent bout of heart surgery; and Iain Sinclair on The Last London.
The law only applied to men, but that didn't mean same-sex relationships between women were immune to opprobrium. Dorothy Todd was hired as the editor of British Vogue in 1922. Under her visionary stewardship, the magazine became a bastion of high modernist style, swapping petticoats and corsets for Picasso, Cocteau, Man Ray and Woolf. Todd lived with her lover, the fashion editor Madge Garland. Sacked in 1926 because of declining circulation, she planned to sue the magazine, but was silenced when the publisher Condé Nast threatened to publicly expose her "morals".

In such an inimical climate, it's not surprising that art became a zone of enchantment as well as resistance. The plenitude of camp aesthetics, the lush excess, the cross-pollination of high and low forms might be conceived as a direct response to the paucity and hostility of the culture at large. From the mannered decadence of Aubrey Beardsley's naughty woodcuts, to Cecil Beaton's portraits of Stephen Tennant as a radiant boy prince, to the cabaret high jinks of Danny La Rue, to the wickedly doctored library book covers made by the playwright Joe Orton (a crime for which he received a jail sentence), camp offered a way of remaking the world, cutting it down to size and reassembling it in richly strange and strangely rich new forms.

Olivia Lang on the British artists working in defiance of iniquitous laws prior to the (partial) decriminalisation of homosexual acts in 1967.
• Due for publication later this year, You Should Come With Me Now, a new collection of short fiction by M. John Harrison.
• Daniel Marner reviews Scarred For Life Volume One: The 70s, a book about the dark side of British pop culture.
• Jay Babcock talks to Erik Davis about the end of Arthur magazine and his new life in the Californian desert.
• The nature photography of Nobuyuki Kobayashi and the ruin photography of Gina Soden.
• Jon Forss of design team Non-Format on his time designing The Wire magazine.
• Mac McClelland on how doctors treat mental illness with psychedelic drugs.
• Mix of the week: Secret Thirteen Mix 216 by WSR.
• Hisham Matar on Jorge Luis Borges.
• London Boys (1976) by T. Rex | Last Train To London (1979) by Electric Light Orchestra | London (2004) by Patrick Wolf