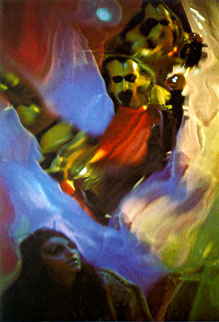 ANNOUNCING THE AKASHIC RECORD DVD SERIES – A BASTET EXCLUSIVE
"THE INVASION OF THUNDERBOLT PAGODA" DVD FEATURING "BRAIN DAMAGE" & "FROM THE MYLAR CHAMBER" SLIDESHOW
BASTET, in collaboration with SATURNALIA and THE IRA COHEN AKASHIC PROJECT, is proud to announce the launch of THE AKASHIC RECORD DVD SERIES.
Celebrated internationally for more than 40 years, and screening this Friday, March 17 as part of the "Day for Night" program at the 2006 Whitney Biennial, Ira Cohen's THE INVASION OF THUNDERBOLT PAGODA director's cut DVD is now available for pre-order exclusively through BASTET / ARTHUR magazine.
Ira Cohen, director: "It was in 1968, the year before Woodstock, between the giant bottle of liquid mercury Tony Conrad found in a doorway on 42nd St. and the Mylar chamber, we experienced a shared voyage conceived in three parts: The Opium Dream, Shaman and Heavenly Blue Mylar Pavilions, an alchemical journey born of out common consciousness – culminating in the akashic bindu drop swirling in the sky's reflected azure. No minimalism here, but a maximalist adventure…"
J. Hoberman in the Mar. 16, 2006 Village Voice:"Part 'Dr. Strange,' part 'Inauguration of the Pleasure Dome,' ['The Invasion of Thunderbolt Pagoda' is] so High '60s that you emerge from its 20-minute vision perched full-lotus on a cloud of incense, chatting with a white rabbit and smoking a banana…. 'Invasion' is a languidly opiated costume ball in which an assortment of masked and painted bohos, some sporting outsize elf ears, loll about a candlelit, Mylar-lined set, blowing soap bubbles and nibbling majoon. …In lieu of action, Cohen uses all manner of superimposition and prismatic image-splitting; his big effect, however, is the deliquescent Mylar reflection. What saves 'Invasion' from preciosity is the vague menace of Angus MacLise's improvised pan-piping, tabla-tapping, creature-yipping score. Although this masterpiece of Tibetan-Moroccan-Druidic trance music was reissued on CD several years ago, it truly blossoms in conjunction with the exotic smorgasbord served at Cohen's psychedelicatessen."
DVD INCLUDES:
High-quality transfer from the original 16mm film, with color correction supervised by the director.
The legendary soundtrack, newly remastered, by The Universal Mutant Repertory Company (Angus MacLise, Raja Samayana, Tony Conrad, Jackson MacLow, Hetty MacLise, and others).
EXTRAS:
14-page commerative booklet with images and poetry by Ira Cohen and Angus MacLise.
Brain Damage, a new film directed by Ira Cohen and produced by BASTET created from never-before-seen original 16mm outtakes.
Alternative soundtrack to "Invasion" by avant folk devils Sunburned Hand of the Man.
"From The Mylar Chamber", an original slideshow of 60 mylar photographs with soundtrack by Angus MacLise and original poetry by Ira Cohen.
Director's Commentary track by Ira Cohen
Learn more about Ira Cohen: www.iracohen.org
"The Invasion of Thunderbolt Pagoda" ships June 1, 2006.