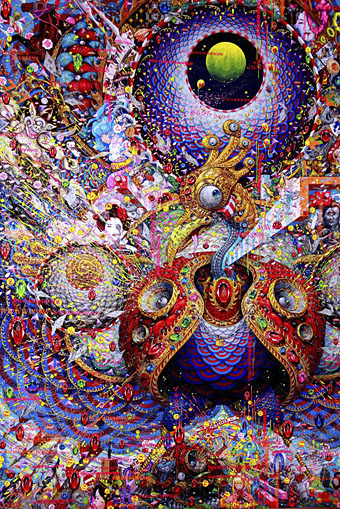 Kujaku (2018) by Yasuto Sasada.
• "The Ernst picture [Of This Men Shall Know Nothing] has also been interpreted as depicting sexual alchemy, which also ties in with much of Peter Grey's writing on Babalon and the goddess' connection to sexual magic and the three 'Fs': f(e)asting, flagellation and fucking!" Hawthonn's Phil & Layla Legard talk to Folk Horror Revival about their superb new album, Red Goddess (of this men shall know nothing).
• South London "Psychic Circuit": A walk with London writer Iain Sinclair inspired by cult writer Steve Moore—from Shooter's Hill and the Shrewsbury burial mound to Charlton House then Maryon Park and the locations used in Antonioni's Blow Up.
• Czech filmmaker Juraj Herz, director of The Cremator (1969) and Morgiana (1972), died last week. One of his later films, The Ninth Heart (1978), featured an animated title sequence by Jan Svankmajer and Eva Svankmajerova.
• The week in psychedelic visuals: Ben Marks on Bill Ham's San Francisco light shows (a piece from 2016), and Dangerous Minds on Astralvision's Electric Light Voyage (1979), a light show on Betamax tape.
• "From glaciers to nuclear bunkers, photographer Chloe Dewe Mathews descends into the dark heart of the Swiss mountains that inspired Mary Shelley."
• Mix of the week: Secret Thirteen Mix 250 by Sote, and XLR8R Podcast 537 by SNTS.
• When The Horses Were Shorn Of Their Hooves, new music by Dylan Carlson.
• Emily Temple on Edward Gorey's illustrated covers for literary classics.
• Hidden Hydrology: Coil's Lost Rivers studio sessions.
• Tube: Minimalist YouTube search
• Sukhdev Sandhu is In Wild Air
• Lost Roads (1988) by Bill Laswell | Lost Sanctum (1994) by Lull | Lost Ways (2016) by Pye Corner Audio