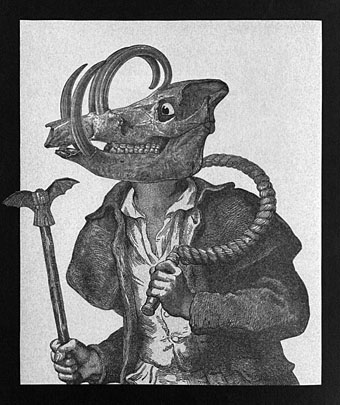 The Collective Lie We All Live By, a cut-paper collage by Allan Kausch from Maintenant 15, A Journal of Contemporary Dada Writing and Art.
• "It's unusual that an album manages to be at once so much of its moment, yet so much outside it. Time was unmistakably a response to the electronic and synth waves that rose in the wake of punk. It was also a concept album about time travel, which couldn't have been more pre-punk had it been focus-grouped that way." David Bennun on Time (1981), ELO's masterwork of science-fiction pop. The first song on the album, Twilight, is a thundering piece of synth bombast that prefigures Trevor Horn's equally bombastic productions, and was used to memorable effect in the copyright-infringing animation made in 1983 for the opening of Daicon IV.
• New music: Disciples Of The Scorpion by The Rowan Amber Mill, and Shade by Grouper.
• "Psychedelic spirituality: Inside a growing Bay Area religious movement".
• "It's time to farewell this project," says Ballardian.
• At Wormwoodiana: the seven greek vowels.
• A playlist for The Wire by Douglas Benford.
• Norman Blake's favourite albums.
• RIP Dusty Hill.
• Time (1973) by David Bowie | Time (1976) by La Düsseldorf | Time (1992) by Lull