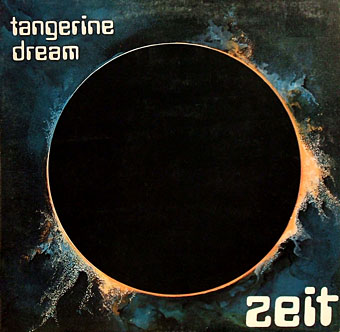 Cover painting by Edgar Froese.
I have seen the dark universe yawning
Where the black planets roll without aim,
Where they roll in their horror unheeded,
Without knowledge or lustre or name.

HP Lovecraft, The Haunter of the Dark, 1935.
It's become traditional to do this each Halloween so here we go again with another music list, ten releases to soundtrack your way into another world. Should you be curious, a number of these works are probably difficult to find but a couple of the Discogs links have YouTube clips on the pages. Some of the selections were featured on an earlier list but this time they're grouped with similar recordings.
Zeit (1972) by Tangerine Dream
All you need is Zeit. I was tempted to write an entire post extolling the virtues of my favourite Tangerine Dream album, to note how I've been listening to it for thirty years and will never tire of it, to mention how much I love Edgar Froese's Black Sun cover painting (which ties it to another pet obsession of mine), how much I relish its pretentious subtitle "A largo in four movements" and the cello drones which open Birth Of Liquid Plejades then grade to Moog doodles by Popol Vuh's Florian Fricke; the endless rumbling, howling minimalism of the whole enterprise… This was an enormously audacious album for its time which predicts many of the subsequent recordings on this list. One of the Kosmische masterworks, and so far out there that every move made by the group thereafter could only be a retreat.
Nature Unveiled (1984) by Current 93
Much as I respect David Tibet for his championing of esoteric culture I've never much liked the music he produces. The first Current 93 album was an interesting collage work, however, created by a kind of supergroup from the Industrial music scene of the time which included members of Coil, Nurse With Wound and 23 Skidoo. The second side provides an ideal Halloween piece with The Mystical Body of Christ in Chorazaim, a blending of Gregorian loops and guitar feedback over which Annie Anxiety rants in Spanish about…penises? I still don't know. The whole thing sounds like something you'd expect to be playing over the landscapes in Wayne Barlowe's Inferno.
Soliloquy For Lilith (1988) by Nurse With Wound
As for Nurse With Wound, this collection of eight electronic (?) drones achieves the typical NWW state of being simultaneously fascinating and irritating in equal measure.
Nunatak Gongamur (1990) by Thomas Köner
The master of what he calls "grey noise" made his first album by "miking-up gongs, then rubbing, scraping and electronically treating the sounds to the point where their origin is unrecognisable." (More.) The result very effectively conjures the icy wastes alluded to by its title, and would make a perfect soundtrack for reading Lovecraft's At the Mountains of Madness or The Terror by Dan Simmons.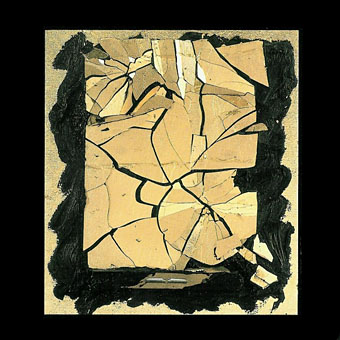 How To Destroy Angels. Cover painting by Derek Jarman.
How To Destroy Angels (Remixes and Re-Recordings) (1992) by Coil
Coil created a similar effect to Köner by treating the sounds of their first 12″ release from 1984 to electronic processing, stretching metallic noises into reverberant shudders. One of the remixes is by Steven Stapleton of Nurse With Wound, while track title Dismal Orb will always make me think of the cover of Zeit.
The Monstrous Soul (1992) by Lustmord
Almost everything released by Lustmord could be labelled "drones and atmospheres" and choosing one doom-laden work over another is a difficult matter. I opted for this one on account of its occult track titles and the well-chosen dialogue samples from The Night of the Demon.
Treetop Drive (1994) by Deathprod
One from the 2006 list. I couldn't say it any better than I did four years ago: Helge Sten is a Norwegian electronic experimentalist whose solo work is released under the Deathprod name. "Electronic" these days often means using laptops and the latest keyboard and sampling equipment. Deathprod music is created on old equipment which renders its provenance opaque leaving the listener to concentrate on the sounds rather than be troubled by how they might have been created. The noises on the deceptively-titled Treetop Drive are a disturbing series of slow loops with squalling chords, anguished shrieks and some massive foghorn rumble that seems to emanate from the depths of Davy Jones' Locker. Play it in the dark and feel the world ending.
Night Passage (1998) by Alan Lamb
Not music at all but treated sounds made from recordings of a length of telegraph wire vibrated by the wind somewhere in Western Australia. Night Passage Demixed was a collection of remixes by artists including Thomas Köner and Lustmord's Brian Williams.
Design by Julian House.
Ouroborindra (2006) by Eric Zann
Another from the 2006 list and the most deliberately horror-oriented work on the Ghost Box label. An artist name borrowed from HP Lovecraft and track titles from Arthur Machen.
The Air Is On Fire (2007) by David Lynch
David Lynch's friend and genius of a sound designer Alan Splet created the template for many of the works listed here with his groundbreaking soundtrack for Eraserhead in 1976. Following his death in 1994 Lynch's films have never had quite the same feel of visceral menace despite their considerable qualities in other areas. This CD was created by Lynch himself for an exhibition of his paintings and other artwork, and if it doesn't possess the uncanny otherness of Splet's rumblings it still makes for some very disturbing listening. Far better than recent Lynchian musical excursions like the Blue Bob album, and well worth seeking out.
Previously on { feuilleton }
• A playlist for Halloween: Voodoo!
• Dead on the Dancefloor
• Another playlist for Halloween
• White Noise: Electric Storms, Radiophonics and the Delian Mode
• The Séance at Hobs Lane
• Thomas Köner
• A playlist for Halloween
• Ghost Box