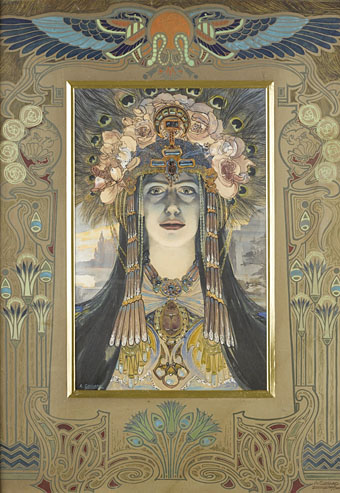 Salammbô (1899) by Adolphe Cossard.
• At Unquiet Things: "A mystery that no longer exists: Wrinkle in Time cover artist revealed". S. Elizabeth explains. I did a little research of my own into this enigma without success. Good to know that it's been resolved.
• James Balmont's latest guide to Japanese cinema is an examination of the transcendental oeuvre of Yasujiro Ozu.
• At Spoon & Tamago: Trains intersect with everyday life in nostalgic illustrations by Shinjiro Ogawa.
• DJ Food discovered a set of Zodiac posters by Bruce Krefting from 1969.
• At Wormwoodiana: John Howard on looking for misplaced Machens.
• At Vinyl Factory: Discovering Mort Garson with Hilary Wood.
• At Dennis Cooper's: More Ozu in Yasujiro Ozu Day.
• New music: Multizonal Mindscramble by Polypores.
• Mix of the week is a mix for The Wire by Aho Ssan.
• Ioneye in conversation with Bill Laswell.
• Train Song (1969) by Pentangle | Love On A Real Train (1984) by Tangerine Dream | Tokyosaka Train (2002) by Funki Porcini