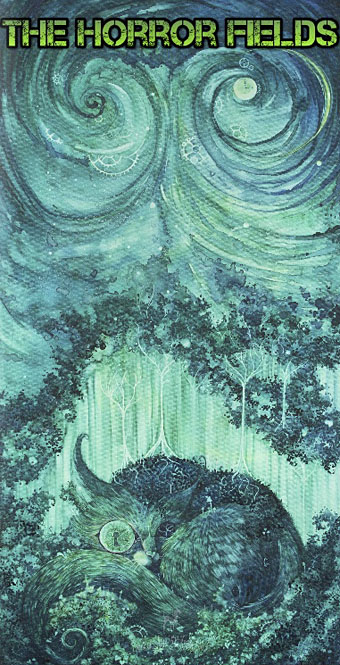 Cover art: In the Palm of the Absinthe Woods by Aria/ShePaintsWithBlood.
Last year I was asked to contribute a piece of fiction to a rural horror special of Morpheus Tales. In time for the Spring Equinox, The Horror Fields, edited by Matt Leyshon, is now unleashed. Inside there's my short story, Figures in a Landscape, plus contributions from Rosalie Parker, Don Webb, Edward Pearce, Murphy Edwards & Brian Rosenberger, James Everington, Richard Farren Barber, Ian Hunter, Justin Aryiku, and Rhys Hughes.
Two editions are available at Lulu: digest-sized, and A4 size; both editions are discounted until the end of the month. There should also be a Kindle edition soon so when I have details I'll mention them here. I'd recommend reading this in a field at night but here in the northern hemisphere it's still a little too cold for that.
Previously on { feuilleton }
• Robin Redbreast by John Bowen
• Red Shift by Alan Garner
• Children of the Stones
• Penda's Fen by David Rudkin