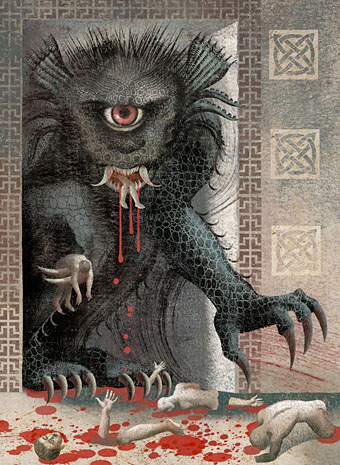 Grendel Monster (2013) by Anna & Elena Balbusso.
• Rick Poynor looks at the Guide de la France mystérieuse (1964), a fantastic (in every sense) doorstop of a volume whose collage alphabet by Roman Cieslewicz can be seen on the cover of Carnival In Babylon (1972) by Amon Düül II.
• Boolean mathematics, Charles Howard Hinton, The Voynich Manuscript, and the effects of surveillance on the political process: Adam Curtis firing on all cylinders as usual.
• At Strange Flowers: The Picture of John Gray, remembering the minor fin de siècle figure who gave Oscar Wilde a surname for his most famous creation.
In "32 Cardinal Virtues of Dennis Cooper," Wayne Koestenbaum remarks: "Cooper's quest for the unseeable is virtually religious. I mean: sedulous, abstract, perpetual, unrewarded, unreasonable." There's much more to be said of Gone, its power, its pain, its odd intrigues, but perhaps it will suffice to say that it is revealing: unlike Burroughs' scrapbooks hidden away by some private collector, never to see the light of day, Gone (and its sister texts at the Fales Library) illuminate in perpetuity Cooper's obscure quest for the unseeable.

Diarmuid Hester looks at Dennis Cooper's scrapbooks
• The Sallow Tree, a single by Lutine. More music: An hour of Julia Holter's St John's Sessions performance.
• At Dangerous Minds: Christian televangelists listen to Stairway To Heaven forwards.
• Cathy Camper reviews Fearful Hunter, a graphic novel by Jon Macy.
• Mix of the week: FACT mix 452 by Claude Speeed.
• Roman Cieslewicz at Pinterest.
• Amon Düül II singles: Rattlesnakeplumcake (1970) | Between The Eyes (1970) | Light (1971) | Lemmingmania (1971)