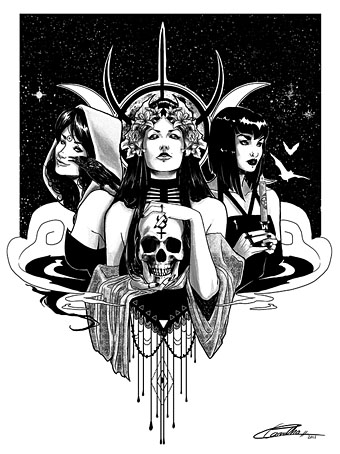 The Three Witches (2014) by Lorena Carvalho.
• Immersion, a new album by Grey Frequency, "…is a recording of the broken signals, wraiths in the ether from lost futures and utopias which were once promised…". Box Of Secrets (1999) is an album of electronica by Ian Boddy that's a free download until the end of December.
• "Hothouse flowers, Egyptian statuary, jewels, Nubian servants, crystal balls, cocaine, opium and champagne were just some of the things she spent her money on…" Lucy Davies explores the riotous world of Marchesa Luisa Casati.
• "London is a network of complete nexuses, coincidences, overlaps, references…" Stephanie Boland talks to Iain Sinclair about his new book 70×70: Unlicensed Preaching: A Life Unpacked in 70 Films.
My Women's Studies professors would say: "You don't know how hard we fought for you." And yet, when they told me my sexuality was not correct, I felt embarrassed. I knew I had longings that didn't line up with the politics, but I refused to repress them, particularly in my writing. I fought to unravel a political correctness that was censoring desire.

Screenwriter Erin Cressida Wilson on sex, cinema and secrets
• Cthulhu, Fiction and Real Magic, a lecture by Ian 'Cat' Vincent at Treadwell's, London, on December 3rd. For those who can't attend, Erik Davis has just posted his essay about Lovecraft and contemporary occultism.
• "John Gielgud was obsessed with trousers, loved corduroy and leather. And so he wrote a film set in a menswear shop." Gielgud's unfilmed screenplay for gay porn director Peter de Rome may now be filmed.
• "The stories are even more fantastic and full of marvels than those in the Arabian Nights." Robert Irwin on the newly-translated Tales of the Marvellous.
• Mixes of the week: The Advisory Circle present Winter From Out Here; Fall by The Ephemeral Man; Secret Thirteen Mix 136 by Cosmin TRG.
• Danny Cooke's drone views of Pripyat, Chernobyl. Related: Into the Zone: Gasworks Park (Seattle, WA) by Christina Scholz.
• Watch Dragnet's 1967 LSD episode. More psychedelics: "Magic mushrooms change brain connections".
• Earth Magic: Peter Bebergal on photography of witches at play and at ritual.
• Düsseldorf 1970: The crucible of Krautrock by those who were there.
• It's Alright Ma, It's Only Witchcraft (1968) by Fairport Convention | Witch's Will (1973) by Wilburn Burchette | Witches' Multiplication Table (1982) by Holger Czukay