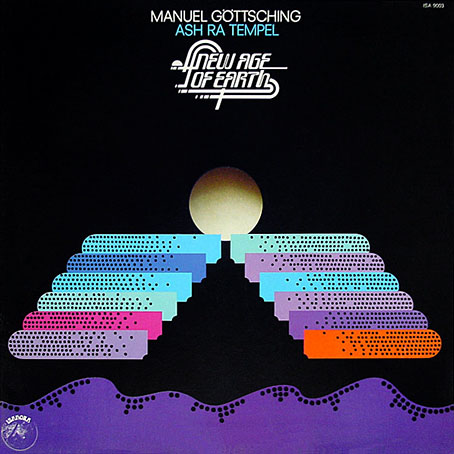 Cover design for the French release by Peter Butschkow.
Another post about the recently deceased; my apologies. In an unhappy coincidence, Angelo Badalamenti's death was also announced today. 2022 has been one of those years when you wish the good people could stick around for a while longer.
upper left: Ash Ra Tempel (1971) by Ash Ra Tempel; upper right: Inventions For Electric Guitar (1975) by Ash Ra Tempel/Manuel Göttsching; lower left: New Age Of Earth (1976) by Ashra; lower right: E2–E4 (1984) by Manuel Göttsching.
If I had to make a choice, these discs are my four favourite Göttsching-related releases, although I'm partial to just about everything he was involved with, whether under his own name, in Ash Ra Tempel, Ashra or The Cosmic Jokers, the fake group concocted by Rolf-Ulrich Kaiser. The Ash Ra Tempel debut is a power trio on a Kosmische voyage, and remarkably assured considering that two of the players were still in their teens. Inventions For Electric Guitar is really Göttsching's first solo album, a demonstration that you could create music that sounded "electronic" (in the Tangerine Dream sense) with nothing more than an overdubbed guitar, an echo unit and a four-track recorder. As for New Age Of Earth, if you can look past the hippyish title you'll find one of the finest synthesizer albums of the decade, one that just happens to be made by a guitarist. E2–E4 is the album that took these explorations further while also predicting future developments. There was nothing else like it in the mid-1980s. The techno-heads who contribute to its inflated reputation only ever listen to vinyl but on CD it's a single piece of music that runs for 59 minutes.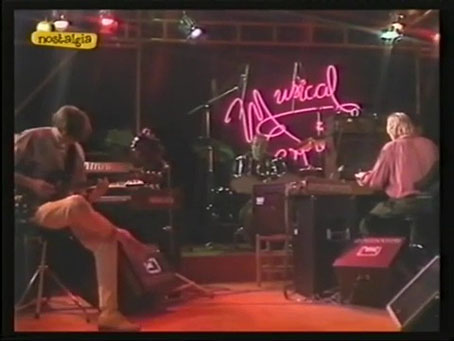 Attention from those techno-heads has ensured that there's a lot of live footage of Göttsching's Ashra line-ups in later years. There's very little from the 1970s or 80s, unfortunately, but Göttsching, Lutz Ulbrich and Harald Grosskopf did make this appearance on Musical Express for Spain's Televisión Española in 1981. This was the same programme that filmed Vangelis improvising in his studio, embracing opportunities missed by the BBC. ¡Gracias!
• "Manuel Göttsching laid the groundwork for generations of electronic musicians," says Brian Coney.
• From 2017: "Everything was in the moment." Manuel Göttsching discussing his career with Robert Barry.