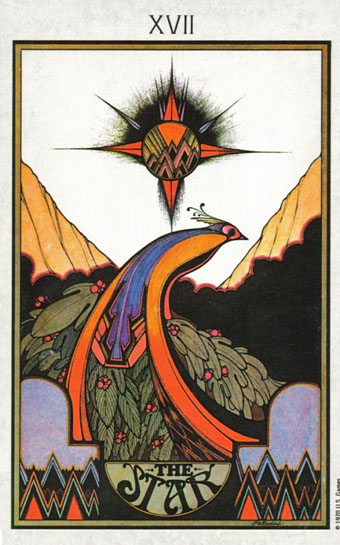 The Star (1970) from The Aquarian Tarot by David Palladini.
• Artist David Palladini died in March but I only heard the news this week. His poster for Werner Herzog's Nosferatu has been a favourite of mine ever since the film's release, while some of his other works have featured here in the past. Still popular among Tarot users is the Aquarian Tarot (1970), a deck published a few years after Palladini had helped with the production of the Linweave Tarot. From the same period as the Aquarian deck is a set of Zodiac posters, all of which exhibit Palladini's distinctive blend of Art Nouveau and Deco stylings. In addition to posters, Palladini produced book covers and illustrations, and even a few record covers. A book collecting all of this work would be very welcome.
• Erotikus: A History of the Gay Movies (1974? 75? 78?): Fred Halsted presents a 90-minute history of American gay porn, from the earliest beefcake films to the hardcore of the 1970s, some of which Halsted also helped create. Related: Centurians of Rome [sic]: Ashley West and April Hall on the bank robber who made the most expensive gay porno of all time.
• Peter Bradshaw reviews Too Old to Die Young, a Nicolas Winding Refn TV series described as "a supernatural noir". Sign me up.
Naomi Wolf's Outrages establishes the context for [John Addington] Symonds's desperate efforts to justify his own sexual feelings. Since he was born in 1840, he was 15 when the first edition of Walt Whitman's Leaves of Grass appeared, the same year that legislation in Britain streamlined the laws against sodomy and ensured that men found guilty of it served long prison sentences. With intelligence and flair, Wolf uses the various responses to Whitman to show the levels of intense need in the decades after the publication of Leaves of Grass for images and books that would rescue homosexuality from increasing public disapproval.

Colm Tóibín reviews Outrages: Sex, Censorship and the Criminalisation of Love by Naomi Wolf
• Record label Dark Entries has discovered 40 more reels (!) of music by Patrick Cowley dating from 1974 to 1979.
• "Is Stockhausen's Licht the most bonkers operatic spectacle ever?" asks Robert Barry.
• Sex, Spunk, Shoes and Sweet Satisfaction: A Q&A with artist Cary Kwok.
• Tripping his brains out: Eric Bulson on Michel Foucault and LSD.
• Paul O'Callaghan chooses 10 best Dennis Hopper performances.
• "More obscene than De Sade." Luc Sante on the fotonovela.
• Karl Blossfeldt's Urformen der Kunst (1928).
• The Strange World of…Gong
• Neonlicht (1978) by Kraftwerk | Brüder Des Schattens, Söhne Des Lichtes (1978) by Popol Vuh | Lichtfest (2017) by ToiToiToi