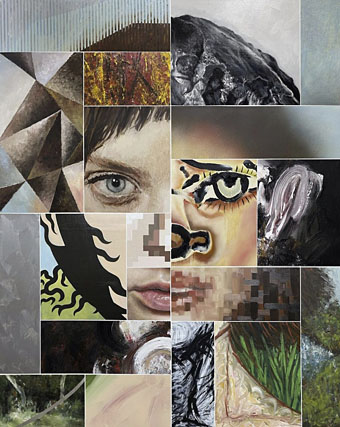 Jam III (2021) by Kotaro Hoshiyama.
• "Powell and Pressburger are peerless in realizing what Orson Welles would term plotless scenes—extra bits that ostensibly do not advance the story, but are a story unto themselves, and aggregate such that they're vital to how we understand the characters who are living the story." Colin Fleming says thanks for the Archers.
• A short promo for The Incal: The Movie. Hmm, okay. A film that adapted all 300 pages of the original story without changing anything or trying to explain away the weirdness would be worth seeing. But I doubt that's what this will be. Read the book.
• "If a single word distills the New Wave aesthetic, it's plastic…ironically flaunted artificiality became a leitmotif of the era." Simon Reynolds reviews Reversing Into the Future: New Wave Graphics 1977–1990 by Andrew Krivine.
• Mixes of the week: a mix by Princess Diana Of Wales (not that one) for The Wire, and At The Outer Marker Part I, a Grateful Dead Twilight Zone mix by David Colohan.
• The Bloomingdale Story: read the never-before published Patricia Highsmith draft that would become Carol (aka The Price of Salt).
• At Spoon & Tamago: Multiple panels form collaged portraits painted by Kotaro Hoshiyama.
• New music: Pyroclasts F (excerpt) by Sunn O))), and Loop return with Halo.
• At Dennis Cooper's: William E. Jones Day.
• Plastic Bamboo (1978) by Ryuichi Sakamoto | Barock-Plastik (2000) by Stereolab | Black Plastic (2002) by Ladytron