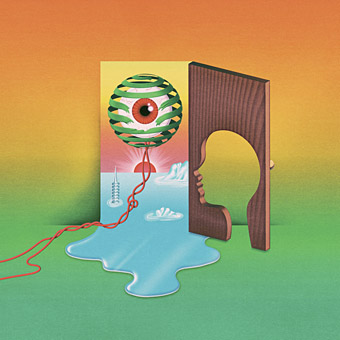 The Weirdness is Coming, an illustration by Robert Beatty for an NYMag feature about the near future.

• I'm slightly late to this news, but better late than never: The Doll's Breath is a 22-minute animated film by the Brothers Quay, shot on 35mm film and with a soundtrack by Michèle Bokanowski. It may take a while before it's available to view outside the festival circuit but it's good to know it's in the world. Related: Filip Lech on the Polish inspirations of the Brothers Quay.
• More from Swan River Press: Joseph Sheridan Le Fanu's disturbing horror tale, Green Tea, is published in a 150th anniversary edition, with an introduction by Matthew Holness, two essays and a CD containing a theatrical adaptation of the story by the Wireless Mystery Theatre.
• Luca Guadagnino, Olivia Laing and Sandy Powell, Tilda Swinton and John Waters choose favourite pieces of writing by Derek Jarman. Related: Protest!, a Jarman exhibition at the Irish Museum of Modern Art.
Fairport [Convention]'s revolutionary impact came in doing precisely the opposite of what the folklorists had intended when they began collecting the songs. By taking the old songs and setting them down on paper, they had largely believed they were preserving them in the form in which they must remain, ignoring the fact that songs passed through generations orally will always evolve. Fairport, though, played extremely fast and loose with the source material, matching tunes from one source with lyrics from another. As Rob Young put it in his book Electric Eden: "It threw into question the spurious 'authenticity' of the folk versions studiously set in stone by the Victorian and Edwardian collectors. Fairport's electrifying act preserved and restored the guts and spontaneous vigour to the folk continuum."

Michael Hann on the 50th anniversary of Fairport Convention's Liege & Leaf
• More Patrick Cowley: PC's megamix of Hills Of Kat Mandu by Tantra. And the mix of the week: a Patrick Cowley tribute from 1981 by DJ Jim Hopkins.
• The seventh edition of Wyrd Daze—"The multimedia zine of speculative fiction + extra-ordinary music, art & writing"—is out now.
• 5 Mishaps: A 32-page hardbound handmade book of short stories by Tamas Dobozy, with collage illustrations by Allan Kausch.
• At Dangerous Minds: Lovely Bones: The transfixing skeletons and dreamlike nudes of Belgian painter Paul Delvaux.
• From 1979: a very early TV appearance by Virgin Prunes (their first?) on Ireland's The Late Late Show.
• Fists of fear: Anne Billson on 10 films featuring severed (and frequently vengeful) hands.
• Adrian Curry at MUBI selects his favourite film posters of the 2010s.
• Tea For Two (1956) by Duke Ellington | Tea For One (1976) by Led Zeppelin | Tea In The Sahara (2001) by Simon Shaheen & Qantara