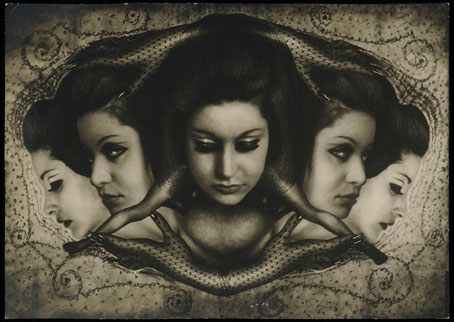 Les Hanel I by Pierre Molinier. There's more at The Forbidden Photo-Collages of Pierre Molinier.
• Western anti-hero Josiah Hedges, better known as Edge, was the creation of prolific British author Terry Harknett. The famously violent Edge novels, credited to "George G. Gilman", were ubiquitous on bookstalls in the 1970s. They were Harknett's most successful works, and are still collectible today; if you're interested there are 61 of them to search for. Amazon Originals have just launched Edge as a new TV series although anything for a mass audience is unlikely to retain the exploitative qualities of novels that often sound like pulp precursors of Blood Meridian.
Related: Terry Harknett discusses the creation of the Edge series at Drifter's Wind; Ben Bridges on Harknett's career, including a look at the writer's many other Western and thriller novels; Bill Crider on Edge, Harknett and the British group of Western novelists known as "The Piccadilly Cowboys".
• Boyd McDonald's queer-eye film guide, Cruising the Movies: A Sexual Guide to Oldies on TV (1985), has been republished by Semiotext(e) in an expanded edition. Related: True Homosexual Experiences: Boyd McDonald and Straight to Hell by William E. Jones.
• "Zdenek Liska's music thrived in unrealities," says David Herter in a lengthy appraisal of the great Czech film composer (whose name would be accented if the coding of this blog would play nicely with diacritics).
• "…a film that plumbs the dark recesses of all our imaginations: dangerous, glorious, absurd, vivid and terrifying by turns." Charlotte Higgins on her favourite film, The Red Shoes (1948).
• Art Forms from the Abyss, a new collection of illustrations by Ernst Haeckel for the report of the HMS Challenger expedition (1872–76). Related: Silentplankton.com
• "The biggest kick I ever get is to find myself pursuing some group of images without knowing why," says M. John Harrison in conversation with Tim Franklin.
• "Plots didn't interest him much. They were just pegs on which to hang characters and language." Barry Day on Raymond Chandler.
• At Dirge Magazine: S. Elizabeth delights in the dark decor of Dellamorte & Co.
• Nabokov scholar Brian Boyd selects his ten favourite Nabokov books.
• Mix of the week: The Ivy-Strangled Path Vol. XIII by David Colohan.
• Take me to the cosmic vagina: inside Tibet's secret tantric temple.
• Pour Un Pianiste (1974) by Michèle Bokanowski | 13'05" (1976) by Michèle Bokanowski | Tabou (1992) by Michèle Bokanowski